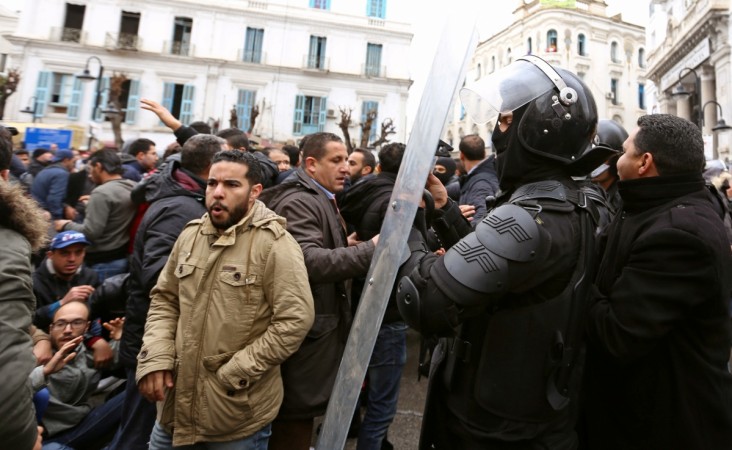 More than 800 people have been detained in Tunisia within a week during the protests against the government's plan for increasing taxes and the price of basic goods. The demonstrators have been expressing disapproval to the government's declaration of austerity measures proposed in the nation's budget.
What spurred the agitation?
The Tunisian government had increased the Value Added Tax (VAT) or sales tax on car, accommodation, alcohol, phone calls amongst other basic necessities.
The ongoing protests are against the unpopular 2018 Finance Act, which came into force from the beginning of this year.
The new budget with an increased hike in prices has enraged the locals as the entire nation is struggling with an already deteriorating economy.
The protests against the austerity measures have spread to almost 10 cities across the nation.
Who are all part of the protests?
The current economic woes of Tunisia have enraged a major section of the population as the country is reeling under high unemployment rate and rising inflation. However, there is no particular leader or face for the ongoing protests.
Rupert Colville, a spokesman for the UN High Commissioner for Human Rights, said in Geneva that "More than 85% of the people arrested are teenagers and young adults between ages 15 and 30. The authorities must ensure that those exercising their rights to freedom of expression and peaceful assembly are not prevented from doing so."
There has been one death reported in the protests, who is said to have been killed last week in Tebourba. However, the cause of the death is still unknown. Onlookers said that the man was rammed by a police car. But the authorities have denied the allegation.
Would the protest end anytime soon?
Tunisia has witnessed widespread mass protests earlier as well. In 2011, the nation spawned the Arab Spring movement that quickly spread to other countries.
The Tunisian Revolution which ousted the longtime president Zine El Abidine Ben Ali was also a major national protest that rocked the country.
The protests seem unlikely to end soon as it spread to more areas, urban and rural. Prime Minister of Tunisia Youssef Chahed appealed the people to stay calm, saying: "People have to understand that the situation is extraordinary and their country has difficulties but we believe that 2018 will the last difficult year for Tunisians."