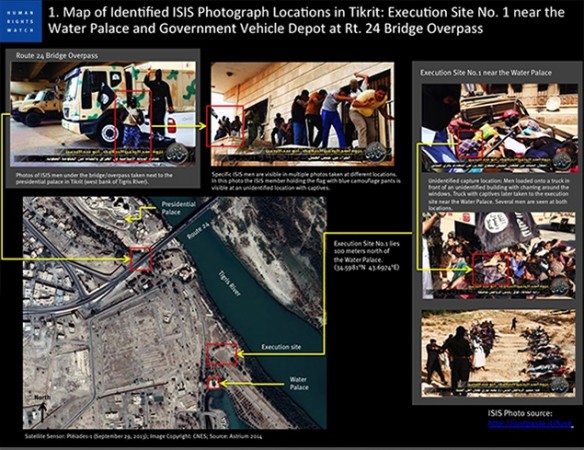 A mass grave with the mutilated bodies of 230 tribesmen of the al Shaitaat tribe killed by ISIS for opposing the Islamic State has been discovered in eastern Syria.
The local activists claim that most of the bodies bore signs of brutal torture. The members of the al-Shaitaat tribe fought the ISIS during the summer.
The Vice News report claimed that the slaughter was perpetrated in a struggle for control of oil resources near the town of Mohassan, and that the victims were mostly able males.
The report quotes one survivor who described seeing "many heads hanging on walls while I and my family escaped." Individuals living in the area also reported seeing freshly-dug mass graves
According to the UK-based monitoring group, the Syrian Observatory for Human Rights, the mass graves were found in al- Keshkeyyi Desert in the eastern countryside of Deir Ezzor.
According to the Syrian Observatory estimates, a total 900 members of the al-Shaitaat tribe have been killed by ISIS to date.
Earlier in October, at least 220 tribesmen were found dead in Iraq after militants from the Islamic State exacted a bloody revenge on Sunni leaders who had been organising resistance movements against them.
More than 150 members of the Sunni Albu Nimr tribe were found in a mass grave near Ramadi in Anbar province, while the corpses of another 48 members were discovered near Hit, according to the Daily Mail.
The report also stated that the ISIS militants massacred 30 Albu Nimr men in broad daylight in the centre of Hit, which is also in Anbar, after parading them through the streets using loudspeakers to declare them apostates.
ISIS claimed that the Sunni tribes were 'apostates' as they had allied with the Iraqi government and were helping to organise anti-ISIS operations throughout the province, hence, they were to be executed according to the Sharia law.
VIDEO:GRAPHIC DISTURBING CONTENT