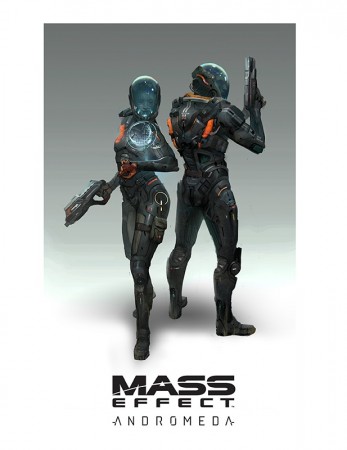 We finally have something conclusive on the next Mass Effect and it will not be called as Mass Effect 4, instead it has been titled as Mass Effect: Andromeda, which promises fans a journey to "discover a new galaxy".
With the unveiling of Andromeda, BioWare has concluded the Mass Effect trilogy with Mass Effect 3: Citadel. A post from Aaryn Flynn, the general manager of BioWare, on the official website of the company stated that the new game was in its initial stages of development in 2013 itself.
Andromeda will offer players new worlds to explore, great characters and intense action, it promised. In what could make any Mass Effect fan abound with joy, the company said that it will be "expanding the definition of what players can expect," in the new game.
The story in the new game will take place long after the event of the original trilogy. The location will also be far away from those connected with the original trilogy.
Yes, players can play as both male and female. Players will get to explore a new galaxy called Andromeda, where they will also be able to drive the improved Mako. Player character will also get a "new team" with whom players can "work with, learn from, fight alongside and fall in love with."
So, players on Andromeda will be able to have romantic relationships with their in-game team characters.
BioWare confirmed the usage of Frosbite engine, indicating that the game could roll out on PC, PlayStation 4 and Xbox One. It added that it has focused its energies on PC and current generation consoles. It promised to "push things" further as the development progresses.
The development work is being synchronised at three different BioWare studios: Montreal, Edmonton and Austin.
BioWare has promised more details at a later date as it was not ready to give away "too many details just yet".
A release date for Mass Effect: Andromeda has not been given out; it has, however, revealed the release window for the game, Holiday 2016.
It released a nearly two minute-long cinematic trailer that showcases what players can expect in Mass Effect: Andromeda.
(YouTube Courtesy: Mass Effect)