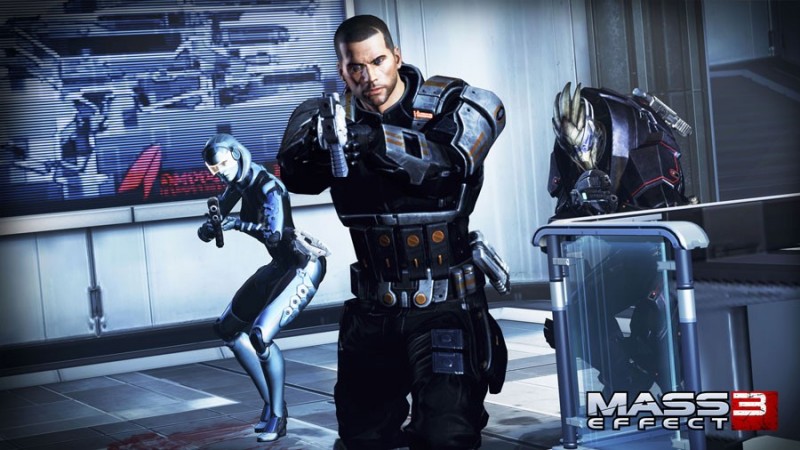 BioWare's upcoming entry into the Mass Effect Universe, Mass Effect 4 has consumed the imagination of many fans devoted to the franchise and now the RPG title has surfaced on the listing of online retailer, Amazon.
Amazon listing showed Mass Effect 4's PlayStation 4 and Xbox One entries, reported Load The Game. The links below suggest that the listing is in all probability is acting as a placeholder and nothing more. Though bereft of any official information, Amazon has revealed that the game is likely to release on 31 December, 2014.
Check out the plain background cover with Mass Effect 4 written on it here and here. It is clear that the original art for the cover has not yet been deployed.
As suggested by the report, one of the main reasons for not having the original box art or just having Mass Effect on the cover is due to BioWare previously confirming that the title will not be called Mass Effect 4 and Amazon are awaiting the new name to be unveiled that will later make way into the already listed game.
But Amazon UK has been more generous with not only a "not final artwork" cover but also revealing the price and listing the game's PC version. It further provides game fans with pre-order price guarantee, allowing interested players to book it beforehand and get it for lowest price when officially released.
The pricing mentioned in Amazon UK are as follows:
Mass Effect 4 PC - £39.99 ($68)
Mass Effect 4 PlayStation 4 - £64.99 ($110)
Mass Effect 4 Xbox One - £64.99 ($110)
The listing makes it clear that the title is pending for all the three platforms. The report suggests that Amazon expects a Collector's Edition to be released with a Standard Edition.
Amazon UK's has Commander Shepard on cover. This does not fit the bill since BioWare has confirmed previously that he will not return in the next game. BioWare has also made it clear during the E3 2014 that the next Mass Effect game will be set in a new universe with new characters. A prototype footage that was shown had war torn environment, a departure from the past. It was also revealed that BioWare Montreal was working on Mass Effect 4 and BioWare Edmonton was working on a completely new IP, GameSpot reported.
The upcoming games will be powered by Frostbite 3 engine. Dragon Age 3 users Frostbite 3 engine.
Mass Effect 4 PC Version Faces Delay?
In the listing, one conspicuous absence was that of Mass Effect 4's PC version. Going by the looks of it, BioWare might jump the release for next-generation version a tad earlier and PC version might follow later.
One of the reasons that it could be delayed is the raising concern regarding piracy issues on PC platforms.
Mass Effect franchise has a huge fan following among its PC gamers.
Oculus Rift Support in Mass Effect 4?
Mass Effect 4 is likely to get Oculus Rift support, which will push the Mass Effect universe to a higher level. Oculus Rift is the virtual reality headset that is in development.
Andrew Wilson, CEO of EA had revealed that he liked the VR headset and he believed that it will be revolutionary for the gaming industry adding that he was looking forward for its progress in the years to come.
However, it will be too early to say that the Mass Effect 4 will include support for Oculus Rift since the VR headset is in a nascent stage of development.