Italian luxury car maker Maserati had unveiled Levante, the first ever SUV by the brand, at Geneva Motor Show in 2016. Levante comes with signature Italian design cues while some argue that it lacks sporty touch of SUVs. If you are among the latter, check out the wide-body version of Levante by German refinement specialist Novitec.
Also read: 1st Maserati Levante of India finds home in Bengaluru months before official launch
Novitec calls its new creation as Esteso. Novitec claims the bodywork components for the jazzed up Levante are manufactured in OEM quality and hence it can be optimised for to precise fit, paintability and ease of installation.
The highlight of Esteso is the arched fender flares on front and rear that add ten centimetres to the width. The eight-part kit also includes extension components that mold the flares to the production front and rear bumpers.
The front and rear bumpers have been reworked to look sportier and more aerodynamic. The front spoiler, and the spoiler blade attached below lend the SUV more distinctive face. The optionally available carbon hood scoop adds visual appeal further at front. The add-ons at the rear bumper are shaped like a diffuser and carbon rear spoiler tops off changes at the back.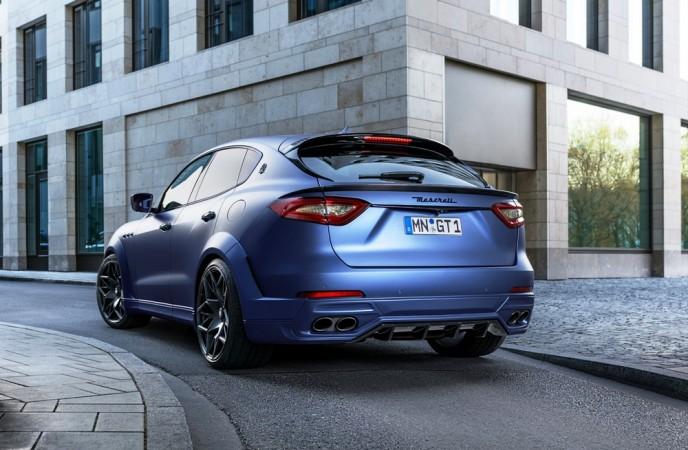 Tailor-made massive 22-inch alloy wheels plays important role in the stance of Esteso. The king-sized alloy wheels come with a choice of finishes, matt black or black with polished surfaces. The alloy wheels have a unique design with dimensionally offset Y-shaped spokes.
The ride height of the SUV in the Esteso version has been reduced by about 25 millimetres. This is expected to result better handling due to the lowered center of gravity.
Also read: Maserati Quattroporte drive experience: A quintessential Italian car with a rev-hungry heart
Novitec has also retuned both petrol and diesel 3.0-litre twin-turbo engines. The power output of the diesel engine jumped from standard 275hp to 322hp while the peak torque has increased to 680Nm. As a result, Levante tuned by Novitec sprints from zero to 100 kmph in just 6.2 seconds. For the diesel variant, the standard output of 250 hp has been souped-up to 301hp.