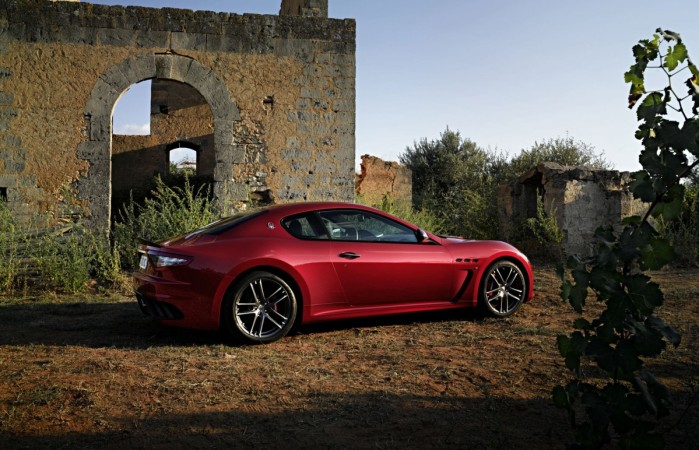 Maserati, the luxury car brand owned by Fiat, is extending its roots into the Indian automobile market
once again after withdrawing operations three years ago. Unlike the last time, the Italian sports car brand will set up its own dealerships in New Delhi, Mumbai and Bangalore, where demand for luxury car brands is comparatively high. The new dealerships in these cities will be operational by the end of September and be represented by AMP Supercars Pvt Ltd. in New Delhi, Bagga Luxury Motocars LLP in Mumbai and Jubilation Autoworks in Bangalore.
Maserati is betting huge on its Indian debut as it plans to bring its entire range of cars to the country. The lineup expected includes Maserati Ghibli diesel, Maserati Quattroporte GTS petrol, Maserati Quattroporte diesel, Maserati GranTurismo and the high-end Maserati GranCabrio. The automaker said it has sufficient stock
to kick-start deliveries at launch but penned a 3-month waiting period if customers opt for customisation.
"Our re-entry into the Indian market
is a commitment to our customers as there is a definite demand for exclusive luxury products, including cars, in the market
," Maserati head of operations for India, Bojan Jankulovski, told ET.
"Dedicated Maserati service facilities, which are fully in line with Maserati global standards, are also planned for all locations," he added.
Maserati Middle East, India, Africa managing director Umberto Cini revealed company's plans to enter Kolkata, Hyderabad, Ahmedabad and Chennai.
With the launch of five models, Maserati is covering the price range of Rs. 1.1 crore to Rs. 2 crore. The Maserati Ghibli Diesel will serve as the entry-level variant at Rs. 1.1 crore. Powered by a 3.0-litre V6 engine, the Ghibli Diesel will clock 0-100kmph in just 6.3 seconds and a top speed of 263kmph. The equipped engine will produce 274PS power and 600NM torque, Zigwheels reports. However, the petrol variant of Ghibli, will not see the light of day in India.
Next in line is the Maserati Quattroporte sedan, which comes with the same engine as the Ghibli, and is priced at Rs. 1.5 crore. However, the premium GTS variant brings attraction to the Quattroporte as it is powered by a 3.8-litre V8 engine that produces 530PS power and 710Nm torque. The car can achieve 0-100kmph in just 4.7 seconds with a top speed of 307kmph.
Finally, the top-of-the-line GranTurismo Coupe and GranCabrio Convertible will be available in India for Rs. 1.8 crore and Rs. 2 crore, respectively. The high-end luxury models are powered by a 4.2-litre V8 petrol engine. There are also MC Stradale and MC Centennial editions running on 4.7-litre V8 petrol engine.
According to Motoroids, S variants can start from still to 100kmph in 4.8 seconds while the MC Stardale can achieve the same in 4.5 seconds. The GranTurismo Coupe is priced at Rs. 1.8 crore while the GranCabrio carries a hefty price tag of Rs. 2 crore.
"Maserati stands for Italian design, performance, craftsmanship and heritage, and of course exclusivity. This new market
entry is a significant step for our brand in its over 100 years of history. We will focus on exclusivity and hence our goal in terms of annual sales in India will be in the two-digit range," Cini told the India Today.