There she stood, perched on the highest ramp, in tears, staring at her national flag above all others, singing along to her national anthem bellowing out of the stadium loudspeaker - the Indian National Anthem.
Mary Kom, mother of three, is a six-time world champion!
Eight years after she won her last gold medal at the world championships, at 35-years-old, the Manipuri won her sixth gold medal at the 2018 AIBA Women's World Boxing Championships.
Taking on Hannah Okata of Ukraine in the final on Sunday, Mary Kom out-boxed and out-jabbed her opponent as she was declared the winner of the final after three rounds by a unanimous 5-0 decision from the judges.
Mary Kom became the first woman in boxing history to win seven medals in the World Boxing Championships moving ahead of Irish legend, Katie Taylor.
"First of all I would like to thank my fans. They came especially for me and the Indian contingent – to cheer for us. Today I was a little bit emotional," said a teary Mary Kom, choking with overwhelming emotions.
A sportswoman beyond compare, Mary Kom received a deafening ovation from the jam-packed Indira Gandhi Stadium at New Delhi as she walked out for her historic contest.
The first round of the match was a close contest but by midway into the second round, Mary Kom was all over her opponent with powerful hooks with her right hand accompanied by quick jabs from her left.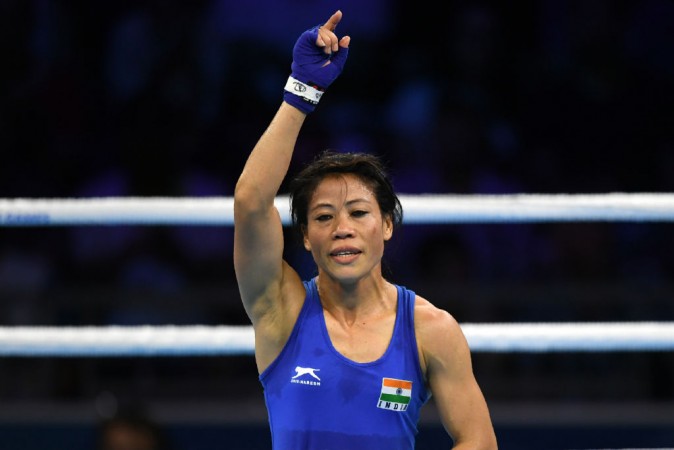 "Mary Kom! Mary Kom!"
The Delhi crowd foresaw the result a little into the third round as Mary Kom had completely taken over the context by then. Okata was visibly rattled by an early jab from Mary Kom and when the legendary pugilist followed it up with a right-left punch combination, her historic gold medal was only a matter of time.
In tears and with the national flag wrapped tightly around her torso, Mary Kom signed off saying that this gold medal was the least she could do for her country.
"Thank you so much for your love and support. I cannot give you guys, I don't have anything. Only what I can achieve (for) you – that is the gold medal for our country."
What a woman!