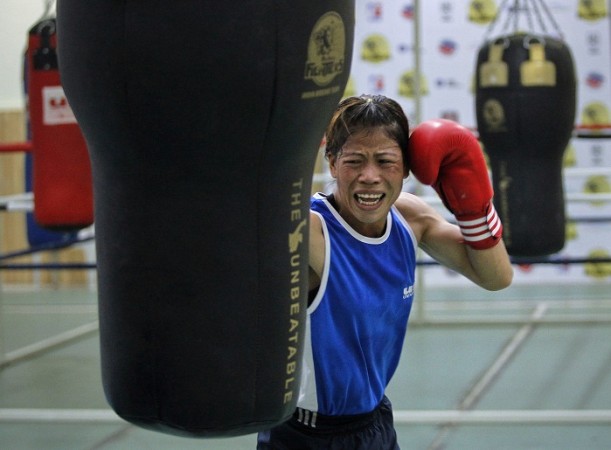 One of the greatest flagbearers of Indian boxing and an inspiration to a number of women in the country and the world, Mary Kom has admitted the sport is indeed going through dark times at the moment, and there is probably no hope ahead.
The 32-year-old Manipuri sensation, who won a Bronze in the Women's Flyweight Boxing category at the 2012 London Olympics, said the absence of a national federation for the sport has hit existing pugilists in the country hard. She also feels some upcoming dreams may shatter if the administrative lapses continue.
It was almost two years ago that the International Boxing Association (AIBA) decided to terminate its association with the IBF (Indian Boxing Federation), and since then, boxers of India have come out in the open to reveal the tough times ahead for the sport in the country.
An AIBA ad-hoc committee has been handling the administration of boxing in India ever since.
Mary Kom, whose career was celebrated in the Priyanka Chopra-starrer 2014 super-hit film titled "Mary Kom", admitted that the lack of competition among boxers in the country has hit all the pugilists hard.
"Yes, they (the boxers) are all demotivated. There's no competition, so it's very frustrating. Whatever effort they're putting in is of no use," the five-time World Amateur Boxing Champion was quoted by the Press Trust of India as saying.
"They're being patient enough, but the future is dark for them without any competition. If there's no National Championship, we won't have any new boxers that means no hope for future. The future will be dark," the mother-of-three said.
Mary Kom also said the worst possible outcome from the lack of a settled administrative body for the sport in the country could be the dreams of many young boxers may shatter, but the sport won't die as a whole.
"It [Boxing in India] won't die, but they're [the boxers are] suffering. Athletes will not immediately change their sport. Every athlete will be happy if the family is in order," she said.
The Rio Olympics 2016 is now the major competition for Indian boxers. However, as of now, no boxer — male or female — has qualified for the mega-event. The Asia-Oceania Qualifier, scheduled to begin next month in China, is the most important competition for them to make it to Rio.
Meanwhile, Mary Kom will be in action in the South Asian Games 2016 Women's boxing final on Tuesday against Sri Lanka's Anusha Dilrukshi. She defeated Bangaldesh's Shamina Akter on Monday in the Flyweight category to make it to the finals.