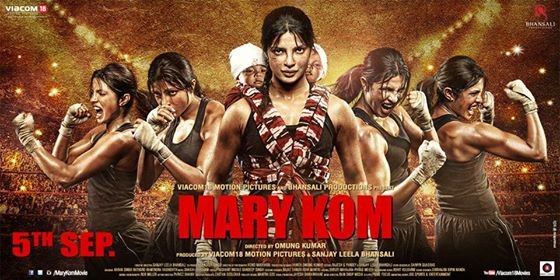 IBTimes India Rating: 2.5
With predictable story line, director Omung Kumar's "Mary Kom" achieves what it sets out to do – it inspires and overwhelms. But a major gripe happens to be the narrative.
Opening to a curfew-stricken rainy Imphal (Manipur), an in-labour Priyanka Chopra (as MC Mary Kom) is being rushed to the nearest hospital. The narrative goes on a reverse gear, and shows Chopra indulging in street fights with rowdy teens. Sadly, despite all the Hulk-ish temper, the anger (almost always) panned out like an unnecessary display of bottled frustration.
Like every sportswoman, Kom too had many hurdles and challenges to face, as her father was not convinced with picking boxing as a career choice. Resolute and focused, the rice farmer's daughter joins M. Narjit Singh's (Sunil Thapa) coaching class in the vicinity.
Torn between family troubles and becoming a champion, Kom finds support in Onler (Darshan Kumar), with whom she falls in love with, and then agrees to get married only to upset the man who trained her to become the finest sportswomen – Coach Singh.
The rest of the plot staggers lazily until Kom begins her training (after giving birth to beautiful twins) and realises her long-forgotten dreams again.
With painted-on freckles and weak accent, Chopra isn't as believable as what was being expected ever since the first-look posters of the film were released. However, it is evident that she put her maximum effort to become the three-time world champion 'Magnificent Mary'. And clearly, she is one of the best actors the Bollywood industry has today.
Kumar does a good job as the ever-sacrificing-supporting husband. Honest and genuine, the debutant actor lends warmth to his character. But, Thapa's acting skills are questionable. Looking like a really angry 'Angry Bird', the coach's words of wisdom were more like guided missiles headed in the wrong direction.
As a maiden attempt at direction, Omung has done a fair job but misses the mark by a few inches. He fails to chronicle the life of the great Indian boxer in a complete manner.
Kom's inner troubles, decision-making skills, determination, ambition and strength are what have made her the woman she is today– Omung touches those areas, but very briefly.
Saiwyn Quadras, screen writer, can equally share the blame with th director for not tapping into Kom's deepest emotions. Although, Chopra tried to give a sincere touch to the boxer's sentiments, there's a limitation for an actor.
The dialogues could have been more powerful had it not resorted to the old-school Bollywood-style of cheering – "Maar Mary Maar".
The background score and music by Shashi-Shivamm supports training montages well, but doesn't give you goose bumps (unlike A. R Rahman's "Jai Ho" or Salim-Sulaiman's "Chak De India").
"Mary Kom" leaves you inspired, but doesn't justify the tale of the powerful boxer who went on to become five-time world champion.