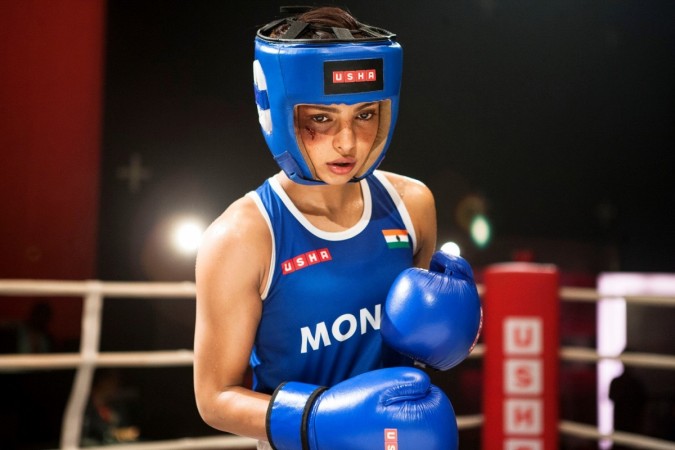 Film lovers across the country are thronging theatres to watch "Mary Kom", a bio-pic of Indian boxing icon MC Mary Kom but people from her home state of Manipur are being deprived of the chance to watch the movie on the big screen following ban of Bollywood films by Imphal-based underground outfit. Left with no option, people are watching the movie from pirated DVDs, which are freely available in the market.
The print edition of The Hornbil Express, a daily in Manipur, reported that pirated DVDs of "Mary Kom" priced around ₹30 have flooded the state, particularly its capital city Imphal. It added that pirated DVD is the only means for the people of the state to watch the movie though piracy is illegal.
Screening of Bollywood films has been banned in Manipur ever since Imphal-based separatist militant group Revolutionary Peoples Front (RPF) banned the industry in the state in 2000, claiming that it is against Manipuri values. But interestingly, the ban is enforced only in Imphal valley where the outfit is active and other hill districts of the state are free to screen Hindi movies.
MC Mary Kom, the five-time world champion and Olympic medalist, had expressed her sadness over the film not being allowed to screen, which is based on her life, in her home state.
"I feel very sad that people everywhere are seeing the film made on my life but not the people in Manipur. It is risky to release it here so I think it is better not to do it. But me and the government tried their best to get it released," Kom told Press Trust of India.
The 31-year-old boxing icon from Manipur and mother of three had earlier told IBTimes that she had watched the film and is "extremely happy that my story will reach every part of the world." She added that Priyanka Chopra is the right person to play her role and that she had worked really hard for the film.
"Mary Kom" featuring Chopra in the title role was released in over 3000 screens on Friday, 5 September. Directed by Omung Kumar and produced by Sanjay Leela Bhansali, the film also features Sunil Thapa and Darshan Kumar in vital roles.
It is reported that the movie is doing great at the box office, collecting over ₹28 crore in just three days. "What a weekend for #MaryKom. Thank you all. I truly hope that the story of our true champ @MangteC has a wonderful run at the box office (sic)," tweeted Chopra on Monday.
"Mary Kom" was declared tax free in states like Maharashtra, Uttar Pradesh, Rajasthan and Madhya Pradesh, as it is based on the life of the ace boxer, who brought laurels to the country by winning many titles, including five world boxing championships and an Olympic bronze medal.