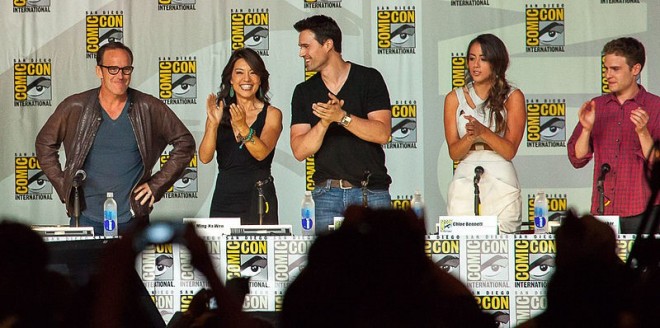 The season one finale of Marvel's 'Agents of S.H.I.E.L.D' will answer several burning questions before it concludes, and will also feature an epic showdown between Coulson's team and Garrett's Hydra. But victory will not come easy, and the winner will have to pay a price.
Hydra has revealed itself and S.H.I.E.L.D. has been disbanded. But it is going to come as a shock to SHIELD members, when they come to know that Ward is a member of Hydra who was planted in their group.
"We think the audience is waiting for a showdown between Coulson's team and Garrett's team and they're going to get a satisfying payoff to that epic conclusion," executive producer Jeffrey Bell told TV Guide.
"If they win, it comes at a price," he added.
Not all agents are expected to come alive following the fight, but the finale will feature Samuel L. Jackson, who will return as S.H.I.E.L.D. director Nick Fury and Patton Oswalt's Eric Koenig.
Official synopsis of the episode reads: "Dark secrets are revealed as Coulson and his team put everything on the line to stop Garrett and the forces of Hydra, on the explosive season finale of "Marvel's Agents of S.H.I.E.L.D., Tuesday, May 13 (8:00-9:00 p.m., ET) on the ABC Television Network.
"Beginning of the End" was written by Maurissa Tancharoen & Jed Whedon and directed by David Straiton."
In the meantime, Tuesday's episode dealt with Garrett and Ward's back story and explained why Ward would mercilessly kill people, even his best friend, Buddy the dog. The episode also revealed that Garrett was the first Deathlok.
The truth about Skye's lineage will also be answered in the season finale, as Raina tracks down old records and manages to get a sample of her DNA. The sample links Skye to an incident in China where a village was rampaged by monsters hunting for their child.
Is Skye River Song's daughter? A number of fans think so.
Check out some of the tweets below.
@AgentsofSHIELD HEADCANON THAT SKYE IS RIVER SONG'S DAUGHTER #spoilers

— I AM GROOT (@SabineSMASH) May 7, 2014
This basically means Skye has powers that she doesn't know how to harness. If she ever does... LOOK. OUT. @AgentsofSHIELD #AgentsofSHIELD — CallMeSkillet (@SkilletVision) May 7, 2014
@AgentsofSHIELD Skye is the prettiest damned monster offspring ever. #AgentsofSHIELD

— Jesse (@TimeLordDevious) May 7, 2014
Skye's parent were monsters. Literally? @AgentsofSHIELD #AgentsofSHIELD — Black Spring (@OverlordOf_Evil) May 7, 2014
[ED:VS]