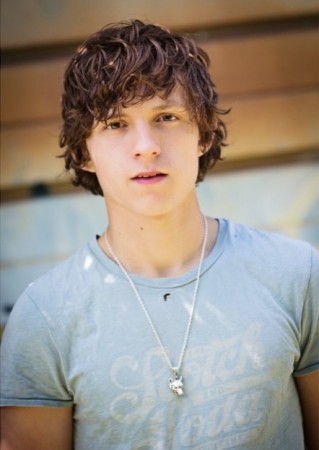 After months of speculations and rumours, Marvel has finally announced its new "Spider-Man"; English actor and dancer Tom Holland. The 19-year-old will be stepping into the shoes of Andrew Garfield and Tobey Maguire.
The role of Spidey has always been that of a straight white male, but a recent leaked contract revealed why the movie-makers has to keep it that way. According to the contract those two mandatory traits of the superhero.
According to the agreement signed between Sony and Marvel studios, neither Spider-Man nor Peter Parker are to be homosexual or of any other race or ethnic background other than white.
An excerpt from the contract
Spider-Man (whether Peter Parker or an alternative Spider-Man character) must always strictly conform to the following "Mandatory Character Traits":

 Male
 Does not torture*
 Does not kill unless in defense of self or others*
 Does not use foul language beyond PG-13
 Does not smoke tobacco*
 Does not sell/distribute illegal drugs*
 Does not abuse alcohol*
 Does not have sex before the age of 16, does not have sex with anyone below the age of 16
 Not a homosexual (unless Marvel has portrayed that alter ego as a homosexual)
"Spider-Man" will be a new instalment in the Marvel Cinematic Universe and the untitled stand-alone movie of the web-spewing superhero is set for a release on 28 July. Before that, he will appear in the upcoming "Captain America: Civil War", in which many other Marvel superheroes will also mark attendance.
However, not many are pleased with the casting of Holland, because they had teased a more diverse, namely an African-American, "Spider-Man".
A skinny white dude? for Spider-Man? Groundbreaking https://t.co/ipbFqLeUjB

— Amina (@KhaleesiMiley) June 23, 2015
@darth how many different versions of a white spiderman can we have?

— andee olivares (@o3flasho3) June 23, 2015
So glad they decided to mix it up for the new Spider-Man reboot by casting another white guy.

— Michael Gallagher (@TotallySketch) June 23, 2015
Stan Lee, the co-creator of the character for the Marvel comic books on the other hand, revealed to Newsarama that Peter Parker would always be white and heterosexual. "I wouldn't mind, if Peter Parker had originally been black, a Latino, an Indian or anything else, that he stay that way," Lee said. "But we originally made him white. I don't see any reason to change that."
He felt the same way about Spidey's sexuality as well, "I think the world has a place for gay superheroes, certainly. But again, I don't see any reason to change the sexual proclivities of a character once they've already been established. I have no problem with creating new, homosexual superheroes."
Many fans have also expressed their disinterest for a new "Spider-Man" movie, which they think have played its course, with Maguire's "Spider-Man" film trilogy and Andrew Garfield's "The Amazing Spider-Man" series.
soon there will be more humans alive on earth who have been Spider-Man than humans who have walked on the moon.

— Robin Ince (@robinince) June 23, 2015
how many times does uncle ben have to die before they stop making spiderman movies

— macklemorla (@roastbeefdinner) June 23, 2015
Not a fan of the new Spider-Man? NO PROBLEM! It will be rebooted again in 5...4...3...2...1

— Anthony Troli (@AnthonyTroli) June 23, 2015

Are you happy with Tom Holland's casting as "spider-Man"?