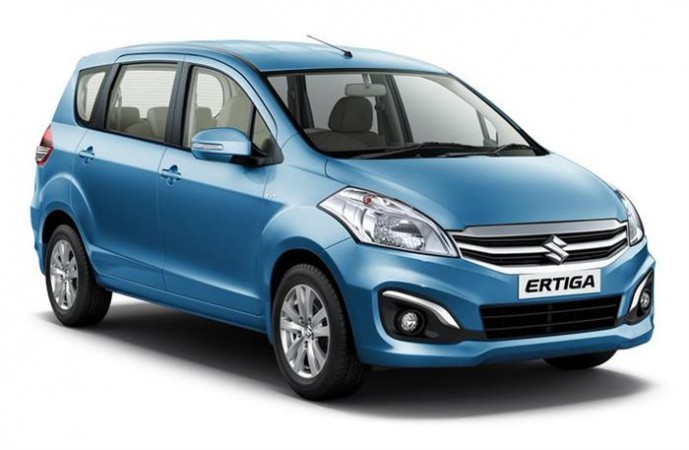 Maruti Suzuki entered the MPV segment in India in 2012, when it was ruled by Toyota Innova. India's largest car maker priced the Ertiga in the range of Rs. 5 to Rs.10 lakh and that competitive pricing attracted many MPV seekers. Four years down the line, the sales figures of Ertiga just crossed 2.75 lakh units in the domestic market.
The Ertiga achieved milestones in its performance despite the fact that the market situation was not in favour of MPVs after the arrival of compact SUVs, reports Autocar Professional. Maruti Suzuki Ertiga and Toyota Innova are the only two MPVs with consistent monthly sales at present in the country.
In the launch fiscal year of 2012-13, Maruti Suzuki sold 77,492 units of the Ertiga. In FY 2013-14, the MPV found 59,822 takers, followed by 62,230 takers in FY 2014-15. In the last fiscal, sales stood at 60,452 units and in the current fiscal, it has found 18,968 takers so far. It also has average monthly sales of close to 5,000 units.
The Ertiga comes with three rows of seats, which became one of the key strengths of the vehicle, along with competitive pricing. Maruti Suzuki currently sells the Ertiga in petrol, diesel and CNG powetrains. It also delivers car-like driving dynamics, thanks to the monocoque construction.
Maruti Suzuki gave nips and tucks to the MPV last year and its diesel engine has been updated with mild-hybrid tech. This aided Maruti Suzuki to reduce the price of the MPV with subsidy under the government's FAME India initiative to promote hybrid and electric vehicles.
Hyundai India and General Motors India had planned to launch MPVs rivalling the Ertiga, but they were shelved recently. Hence, the Ertiga is expected to continue its supremacy in the segment in the coming months as well.