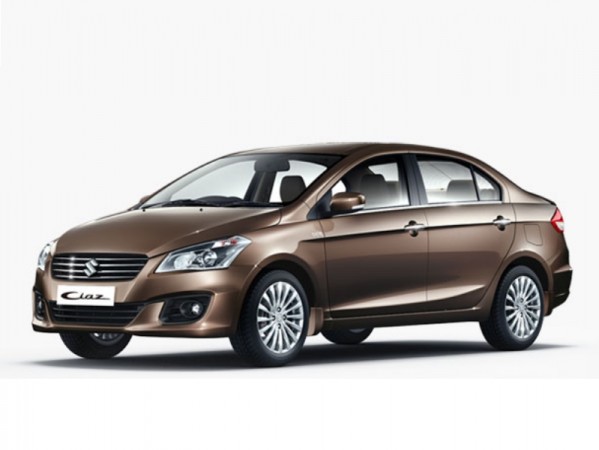 Maruti Suzuki, the country's largest carmaker is looking to expand its Nexa, the premium dealership range in India. The Nexa, which started its journey as the destination for Maruti's premium offering with the S-Cross premium crossover is expected to get new additions in the coming year 2017.
If has now almost been confirmed that the Ciaz, the sedan, which is currently being sold through the regular dealers of Maruti Suzuki will be upgraded to Nexa in 2017. The Ciaz is expected to join the Nexa floor by April 2017 with a facelift. In the facelifted version, the Ciaz is likely to get visual modifications. Maruti is also expected to give the Ciaz a premium touch both inside and outside.The Ciaz facelift is expected to get updated new front grille, tweaked bumper and the addition of LED daytime running lights. Other changes expected include newly-designed alloy wheels, electronic sunroof and updated infotainment system that supports Apple CarPlay.
Mechanically, the upgraded Ciaz is expected to remain the same as the current model. There have been rumours that facelifted avatar of the Ciaz could get Suzuki's M15 1.5 litre petrol engine. Currently, the Ciaz is powered by the 1,373cc petrol unit that develops 91bhp at 6,000rpm and 130Nm of torque at 4,000rpm mated to five-speed manual transmission. The petrol variant is also available with four-speed automatic transmission. The diesel unit comes equipped with a small hybrid system with 1,248cc displacement and develops 89bhp at 4,000rpm and 200Nm of torque at 1,750rpm. The engine is paired with a five-speed manual transmission.
Currently, Maruti sells two models – the Baleno premium hatchback and the S-Cross premium crossover — through Nexa. The Nexa will also welcome the Ignis small crossover and the Baleno RS next year. The Ciaz may also see a slightly higher price tag as it goes to the Nexa dealerships of Maruti.