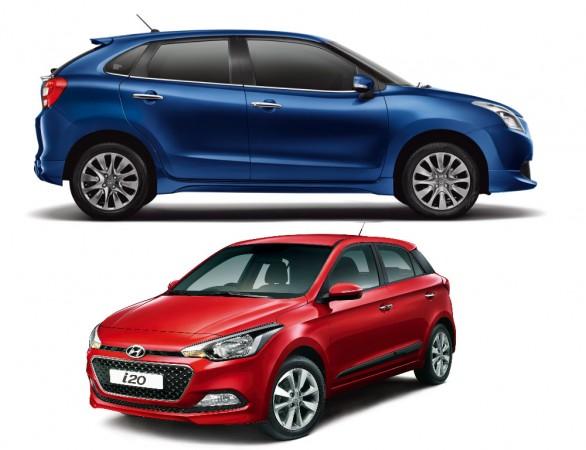 Maruti Suzuki's premium hatchback Baleno regained sales lead over its prime rival Hyundai Elite i20 in April after trailing for three consecutive months. Maruti Suzuki sold 9,562 units of Baleno in April while Hyundai Elite i20 is in pursuit with 9,400 units sales. The Baleno overtook Elite i20 with a margin of just 162 units according to the data compiled by ET Auto.
After a promising start that saw Baleno overtaking Elite i20 in sales in December 2015, first three months of 2016 were not in favour for Maruti Suzuki. Baleno lagged behind the Elite i20 with 6,236 units sold, against the latter's 8,713 units in March 2016. Maruti Suzuki sold 7,698 units of the Baleno in January where as Hyundai sold 8,250 units of the Elite i20 in the same month. In February, too, the Elite i20 kept its lead over the Baleno. In December, Baleno overtook Elite i20 for the first time with 10,572 takers against the latter's 10,379 units and it is also the best month for Baleno so far.
The Elite i20 also saw decline in sales by 24 percent compared to the 12,425 unit sales in April 2015. In March 2016, Elite i20 registered drop in sales by 16 percent against the same period last year and in February 2016, the sales saw an 18 percent decline.
Baleno currently has domestic bookings of over 1 lakh and it was reported that production constraints are delaying deliveries. Maruti Suzuki further derailed the deliveries in the domestic market by starting to export the Baleno in January this year. Maruti Suzuki also plans Baleno to be the key product from the upcoming Gujarat plant, which will be functional by 2017.