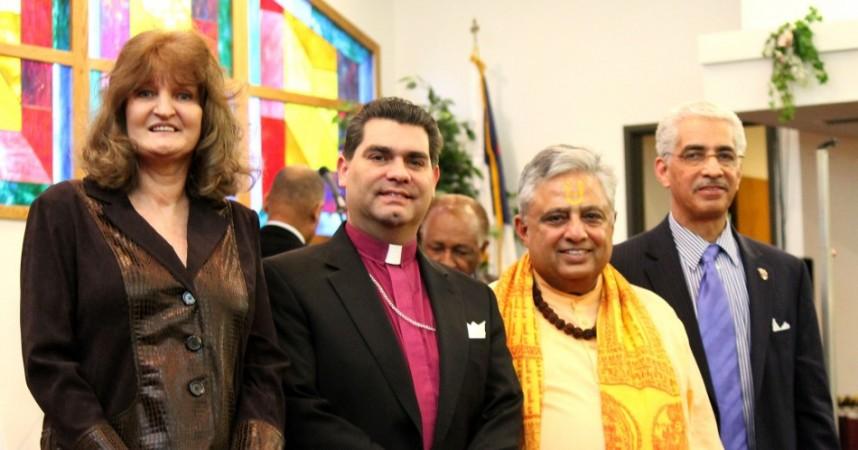 The 26th Annual Martin Luther King Junior Inter-faith Community Memorial Service in Nevada, U.S.A., concluded with mantras from ancient Hindu scriptures on Jan. 15.
Besides Gayatri Mantra, the most sacred mantra of Hinduism, other mantras were also read from Bhagavad-Gita (Song of the Lord), Upanishads and Rig-Veda(oldest existing scripture of mankind) during his "benediction" on the occasion, said a statement by Hindu statesman and President of Universal Society of Hinduism, Rajan Zed.
In the statement, he also pointed out that both Mahatma Gandhi and Martin Luther King shared a common vision on fighting injustice.
The benediction ceremony was held at Second Baptist Church (SBC) in Reno with the theme "Remembering the dream, Fulfilling the mandate."
This service also included musical selections "What's Going On?" and "Love Train Medley" (both performed by Power of Love and directed by Leon W. Smith) and another by SBC Choir (directed by Jesse Hall); congregational hymns "Lift Every Voice and Sing" and "We Shall Overcome"; and video tribute to King (presented by Deacon Stephan Fuelling of International Community of Christ), added the statement.
Nevada Governor Brian Sandoval's proclamation and message from United States Senate Majority Leader Harry Reid were also read on the occasion by Verita Black Prothro.
Nobel laureate Luther King Jr. (1929-68) is an American civil rights icon. His birth anniversary is observed as Martin Luther King Jr.Day on the third Monday of January each year in United States.
The American civil rights leader was assassinated in 1968.