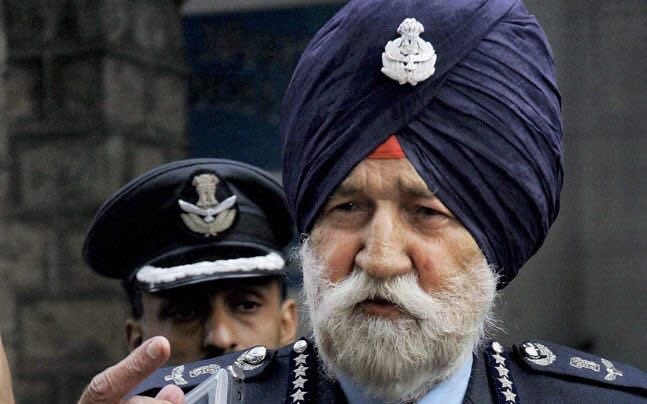 Marshal of Indian Air Force, Arjan Singh, 98, the only officer who received five-star rank, died of cardiac arrest at the Army Research and Referral Hospital in New Delhi on Saturday, September 16.
Prime Minister Narendra Modi and newly appointed Defence Minister Nirmala Sitharaman had visited the late IAF officer in the hospital. Modi later tweeted saying Singh had been critical.
"Went to R&R Hospital to see Marshal of the Indian Air Force Arjan Singh, who is critically ill. I also met his family members," the PM tweeted.
Here are 10 facts to know about the late officer:
Marshal of Air Force Arjan Singh was born in Faisalabad in Pakistan – the then Lyallpur in Punjab -- on April 15,1919.
He joined the Indian Air Force at a young age of 19 in 1938. After a year, he was commissioned from England's Royal Air Force College Cranwell.
He is remembered for his contributions during World War II in his operational tenure in Burma.
When India became a republic in 1950, Singh held the command of Indian Air Force till 1952, followed by another tenure from December 1955 to April 1959.
He was called "a fearless and exceptional pilot". He was the first Indian pilot to be awarded the Distinguished Flying Cross (DFC) by the Supreme Allied Commander, South East Asia.
Post independence, he was sent to RAF Staff College in Brackwell, Joint Services Staff College and London's Imperial Defence College to take up a few courses on military academics.
In August 1964, when he was 45, he took charge of IAF's third Indian Chief of Air Staff.
He was honoured with Padma Vibhushan in 1965 for his contribution in the Indo-Pak war.
He retired in 1970 and also became one of the longest-serving chief of Army services in India.
In 1971, he became Indian ambassador to Switzerland and in 1974 he became Indian High Commission in Kenya. He also served as Indian ambassador in Vatican.