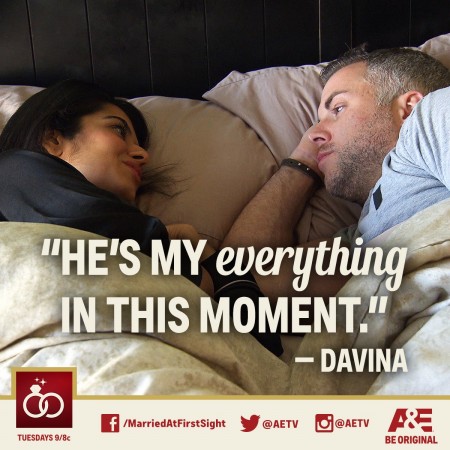 A&E will air the season 2 episode 7 of one of the scariest and bizarre social experiments ever, "Married at First Sight", on Tuesday, 28 April. The three couples participating in the reality show have moved in together as husbands and wives, and now they are ready to celebrity New Year together for the first time.
Although it seemed like Jaclyn and Ryan would be the couple that might have issues, they seem to be getting along just fine. The duo made necessary adjustments and compromises to make each other's lives and commute comfortable by moving into a home in Queens that is almost equidistant for both of them.
In fact, "Moving In" ended with the initially rocky couple consummating their marriage after lovely in-house date. Promo for the next episode also suggests that they will be having a great time during their New Year celebrations; so great, that Ryan proposes to his wife to marry him again. They definitely win the most-adorable couple tag in this reality show.
Davina and Sean, who made out like two love-struck teenagers on their "blind wedding" are seem to be lacking in the chemistry department. Although Sean blames it on his anxiety about moving to New York, Devina feels that he is just not completely giving it to the marriage.
However, the promos suggest that the couple have worked out their differences by New Year's and are having a great time together.
This however cannot be said for Ryan and Jessica, who have really not connected since the huge restaurant fight during the honeymoon. During the course of the show, it is becoming clear that Jessica is more of a push-over and that her husband is very short-tempered.
The couple has yet another argument in "Happy New Year". Will Ryan and Jessica be able to stick together for moments of joy, if it meant fighting for the rest of the time?
Find out on 28 April at 9.00 pm (EST) when A&E airs the season 2 episode 7 of "Married at First Sight".