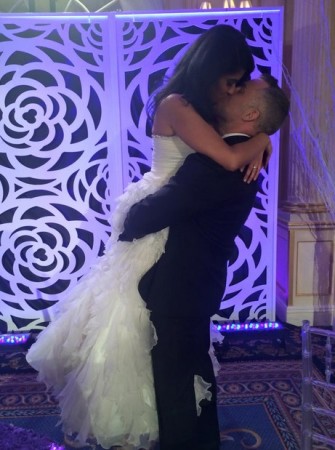 Doesn't matter how much you love or know someone, deciding to spend the rest of your life with them is always a stressful decision; and to make matters astronomically nerve-wracking, three men and three women have agreed to marry complete strangers as part of a social experiment, "Married at First Sight".
The first episode of the A&E reality show, which aired on Tuesday, 18 March, ended with one of the three couples meeting each other for the first time at the altar.
Jaclyn and Ryan was the first couple to meet each other and while the groom was a "happy camper" having met his future spouse, the bride admitted to the cameras that she wasn't impressed. It is with that cliff-hanger that the first episode of "Married at First Sight" ended.
Here is what happened with the three couples on episode 2:
Jaclyn and Ryan
Although Jaclyn had doubts about her pairing with Ryan, she decided to go ahead and say "I do" and hugged her husband, instead of kissing him.
Before their reception the couple interacted a bit, and Jaclyn learnt how to pronounce "Ranellone", Ryan's last name and also learnt that he is a real-estate agent from Long Island. She revealed to her husband that she cannot shift from New Jersey because of her job, and Ryan promised her that he would figure out a way to work it out.
Ryan, who is happy with his chosen bride, said that he hoped "this leads to a lifetime of love". Meanwhile, Jaclyn is still unsure why the experts chose him for her and shares her fears with her girlfriends during the reception, wherein her friends reminded Jaclyn that her life was not a rom-com and that she needs to be more open-minded; she agreed in the end.
Sean and Davina
Although Sean's disapproving parents begrudgingly attended the wedding, Davina's parents decided to forgo it. That didn't stop the sparks from flying between the trauma nurse and bio-pharmaceutical sales rep on their wedding day.
The duo was definitely taken with one another and kept kissing each other throughout the night. Ironically, both Sean and Davina had said before their wedding ceremony that they would not kiss their spouse right away. Caution was thrown to wind and the duo went for it, right in front of all their guests.
Even Sean's mother gradually warmed up to her new daughter-in-law and said that she was happy they met Davina and wished the couple a happy married life ahead.
Jessica and Ryan
This couple was also happy with being each other's choice and kissed as soon as they got married. Their friends and family, who were excited by their union, kept clinking their glasses to get this attractive couple to kiss.
Ryan and Jessica were both amused to discover that both of them were raised by step-fathers and developed a bond over their shared past. The mother's of the newlyweds also gelled well immediately.
All three couples headed for their hotel rooms by the end of episode 2, but fans will have to watch out for episode 3, on 31 March, Tuesday, at 9.00 pm (EST) in A&E to see if these virtual strangers are ready to consummate their marriage.