Perhaps for the first time in the history of Indian Railways, a couple from the North Indian state of Uttar Pradesh tied the knot on a train on Thursday. Doubling their joy, the marriage was solemnized by one of the most popular spiritual gurus of India, Sri Sri Ravi Shankar.
But do not be mistaken, the UP couple did not marry on the train as part of a Railways-themed wedding. The duo Sachin Kumar and Jyotsna Singh Patel decided to marry on board after Ravi Shankar, who was traveling on the special train, urged them for an impromptu wedding.
The Art of Living founder happened to be on the special train as part of a yatra across Uttar Pradesh.
According to the Indian Railways, Kumar and Patel, who originally planned to marry in April, exchanged garlands somewhere between Gorakhpur and Lucknow while Ravi Shankar chanted the mantras.
After ordaining their marriage, the godman, who has about 300 million followers in 151 countries, said that he wants to spread the message of a simple wedding to all.
"This is the way to conduct weddings — simply. It is a message I want to send everywhere that weddings should be simple and people need not take loans and spend lakhs for it," Ravi Shankar said in a video message released by Art of Living foundation.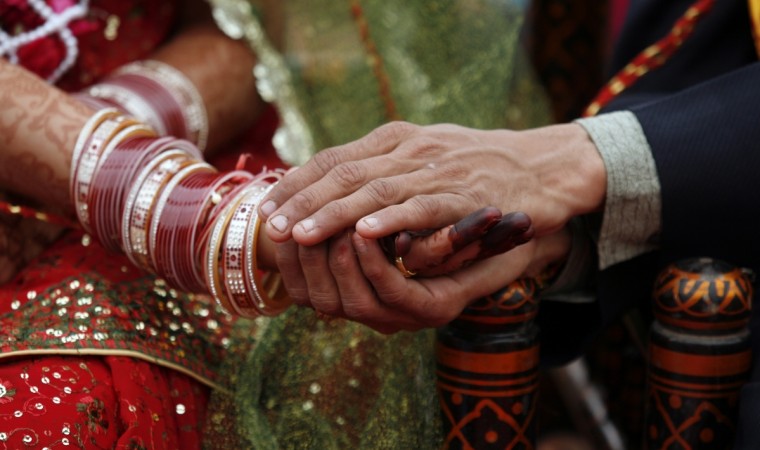 In fact, Kumar was wearing a pair of trousers and a shirt while Jyotsna was in salwar kameez when Ravi Shankar advised them to marry.
A co-passenger lent a sari to Patel and the duo got dressed up for the wedding in the simplest way on the train. Incidentally, the train was decorated with flowers as Ravi Shankar was traveling in it.
"During the marriage, it was like I was with family. We got ready in the first AC compartment. Really every train has a feeling of home," Kumar was quoted as saying by the PTI.
A follower of Ravi Shankar took to Twitter to share the memorable incident.
"Perhaps first time in the history of Indian Railways, a marriage happened during the train journey! Jyotsna and Sachin got married in the presence of Gurudev @SriSri," tweeted the godman's follower.
The Tamil Nadu-born spiritual leader's net worth is $18,40,94,000 dollars, stated a website called Salary and Net Worth citing 2013 records. Ravi Shankar was awarded Padma Vibhushan in January 2016.
Here's how you can plan your wedding on train
In case, the idea of marrying on a train has intrigued you, Indian Railways does have a plan for you. In March 2017, the Karnataka State Tourism Development Corporation (KSTDC) said they have been working on a program to introduce wedding and honeymoon packages on Karnataka's Golden Chariot luxury train.
In 2016, Indian Railways Catering and Tourism Corporation (IRCTC) had also introduced a service through which you can tie the knot with your loved ones on luxury trains.