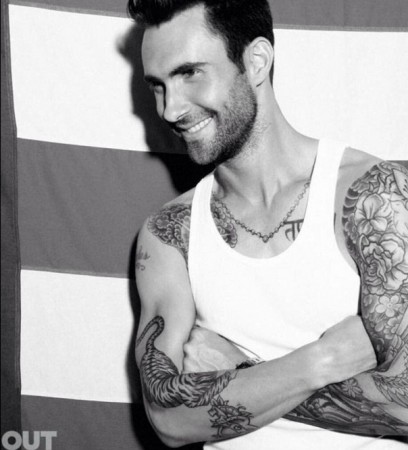 Be careful the next time you wish for something, because when it comes true you might not like it. Just like Adam Levine who got sugar bombed by one of his fans, who said that he had asked for it.
Levine was exiting the studious after taping an episode of "Jimmy Kimmel Live!" when Navid Farsi hurled a packet of powdered sugar towards the singer that exploded all over him, leaving the singer in quite a mess. Clearly, he had taken the lyrics of the band's song 'Sugar' which goes like "Your sugar. Yes, please. Won't you come and put it down on me?", far too seriously.
"Yesterday while Adam Levine was exiting the Jimmy Kimmel studio, Farsi threw powdered sugar at him covering most of his upper body," reported E! Online. "He also hit several other people including some members of Levine's security team. Two plain clothed, off-duty officers conducted a private arrest. There were a total of 5 victims."
Farsi was arrested immediately on Battery charges and TMZ reported that he pleaded no contest to the assault on "The Voice" star. He was sentenced to three-year probation, 52 counseling sessions, and 20 days of highway cleanup community service. Also, he must stay 500 yards away from Levine and Jimmy Kimmel Live's studio.
Meanwhile, Maroon 5 is going to hit the road at the end of the month to resume their worldwide "V Tour" to promote their fifth album. The band's international leg begins on 24 May in Paris, France before making their way through Europe, Asia and finally Australia.
But after the recent turn of events, it is advisable the band keeps the "Sugar" song out of its performance list. Who knows, there might be another crazy fan waiting to oblige Levine's 'sweet' request.