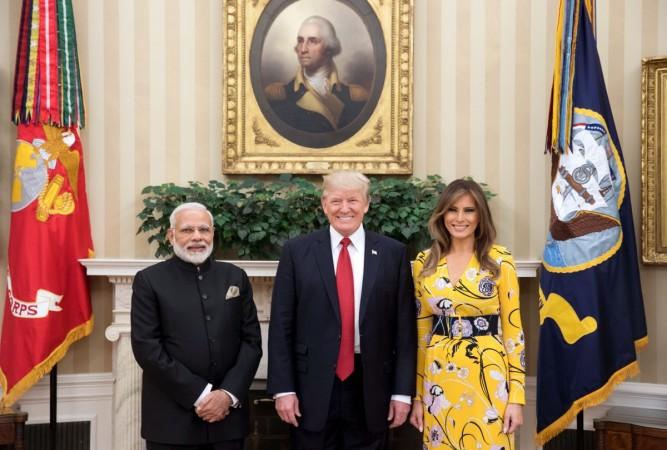 Prime Minister Narendra Modi, on his visit to the United States, was on Monday welcomed by President Donald J Trump and his wife Melania into the White House in Washington.
Following their talks, both leaders addressed a joint press conference, in which they emphasised the importance of a strong India-US relationship.
Here are seven key takeaways from that press conference they addressed:
1. "India & USA are global engines of growth. @POTUS & I discussed ways to strengthen the economic & trade relationship between our nations." This is what Modi said on Twitter, marking the official handle of the President of the United States. While this is more of a general statement, it assumes importance when we get into the fine print.
2. "During our talks, @POTUS and I discussed the menace of terrorism as well as the need to uproot all forms of terrorism." This statement from Modi is all the more important because the discussions included Pakistan and the terror mechanism in that country. Both India and the US have suffered due to terrorists coming out of Pakistan.
3. "Trade, commerce and investment are key areas. Technology, innovation and knowledge economy are also areas were are actively looking at." Modi's statement is a broad stroke in the areas where Indo-US ties are expected to become stronger in future.
4. "We consider USA a valued partner in our flagship programmes." The prime minister may have just signalled more support from the US in schemes like Make in India, Digital India and Startup India. With the US having cut H1-B visas, Indian IT professionals and firms have been having a nightmarish time. More jobs at home might mean an end to that nightmare.
5. "We agreed to work closely on boosting maritime trade and cooperation." This is good news for both India and the US, because it will mean they will join hands to take on the push by China for maritime supremacy.
6. "In just two weeks, you will begin to implement the largest tax overhaul in your country's history, creating great new opportunities for your citizens." Trump praising GST can be a great boost for the new tax regime, which is being rolled out from July 1.
7. "I look forward to working with you, Mr. Prime Minister, to create jobs in our countries, to grow our economies, and to create a trading relationship that is fair and reciprocal." And with that statement, Trump may have just silenced many political rivals of Modi who have of recent tried to corner the prime minister over the lack of job creation in India.