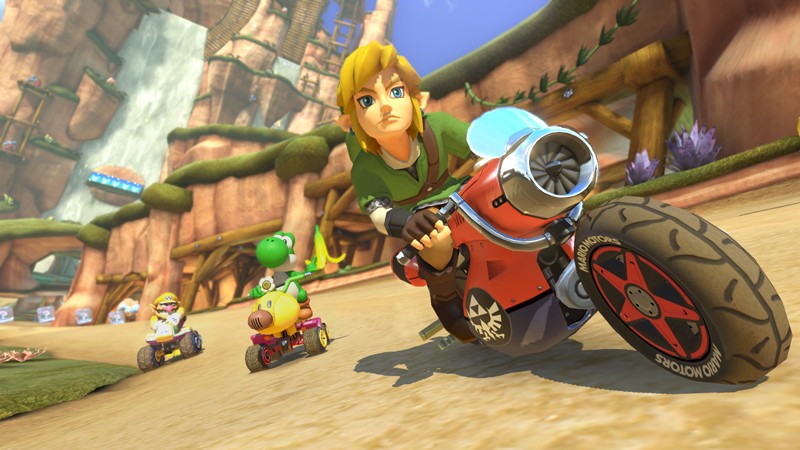 Nintendo has officially announced that Mario Kart 8 will be getting Zelda and Animal Crossing DLC that will include new characters, vehicles, and new tracks.
After being listed on the company's UK page, it was followed later on by an official confirmation. The game will be adding six characters, eight vehicles and 16 tracks.
The new content will add two new cups and each of them will get four courses, thus increasing the number of them by 50 percent.
These two packs will include the classics like Wario's Gold Mine from Mario Kart Wii and places of the Legend of Zelda and Animal Crossing. New vehicles that will be part of the pack includes Blue Falcon Kart that is representative of F-Zero franchise.
Mario Kart 8 Pack 1
Pack 1 includes:
3 Characters: Tanooki Mario, Cat Peach, Link
4 Vehicles
8 Courses
Mario Kart 8 Pack 2
Pack 2 includes:
3 Characters: Villager, Isabelle, Dry Bowser
4 Vehicles
8 Courses
Release Date
Mario Kart 8 Pack 1's likely release will be in September 2014 and Mario Kart 8 Pack 2's release is scheduled for May 2015.
Pricing
If players want to opt for these DLC packs separately then each pack will cost $8. However, buying it together will be cost saving as it is priced at $12 and will contain both of them, which will mean more content.
Bonus
Players who either buy both the packs or who buys it separately will allow players to get eight Yoshis that all have different-coloured Shy Guys, which can be used immediately.
Undergoing Maintenance
Nintendo has announced that Mario Kart 8's online portion will be going offline due to maintenance on 27 August.
This is in preparation for free Mercedes DLC that is expected to roll out soon, reported Wii U daily. This was originally the promotional deal between Mercedes and Nintendo.
Below are the different timespan across the world during which the game releases.
USA PST – 11:30pm to 1am
USA EST – 2:30am to 4am
UK – 7:50am to 9am
Europe – 8:30am to 10am
Japan – 3:30pm to 5pm