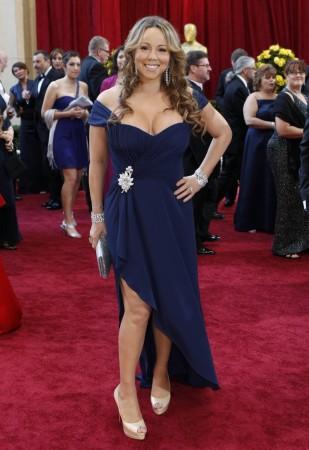 All is reportedly not well between celebrity couple Mariah Carey and Nick Cannon as they have been living separately for a few months now, hinting that a divorce is imminent.
Comedian and "America's Got Talent" host, Cannon has confirmed that he and his wife of six years have been living separately for months. He told The Insider's guest co-host Chris Spencer about his failing marriage, according to a report by Radar Online.
"There's trouble in paradise...we have been living in separate houses for a few months," Radar Online quoted Cannon, 33, as saying.
What is the reason for the break up?
The couple started living separately after Carey hired security guard to keep him away from other girls, a source told Page Six. The singer suspected her husband of cheating, so she sent out a security guard during his pool parties in Las Vegas earlier this year to make sure that he didn't go out with girls.
"The security guard wasn't there to keep the girls away from him," said our source. "It was to keep him away from the girls," a source told Page Six, adding that Carey didn't want her husband to drink during the Vegas gigs as she thinks he gets into trouble after drinking.
Another source said that the couple was fighting a lot before deciding to live separately.
"He hasn't been staying at their home," said an insider. "He's been living out of hotels. They're fighting a lot."
While reports have hinted cheating as the main reason for the split, Cannon denied infidelity as the cause of their marriage trouble. He said that his kids are his priority.
The couple have 3-year-old twins - Monroe and Moroccan – together. They tied the knot in 2008, raising eyebrows of many because of their age gap, as the singer, who was earlier married to Tommy Mottola for five years, is older than her husband by 12 years.
Reports of their split surfaced recently with several media houses claiming that they were on a trial separation and that they would officially announce their break up if things don't work. They also put their Bel Air mansion up for sale in July.
However, Cannon hasn't abandoned his wedding ring yet, indicating that all hope is not lost for a reunion. He was spotted with ring at the birthday bash of SKAM founder Sujit Kundu on Monday. But unlike in the past, he left the party early.