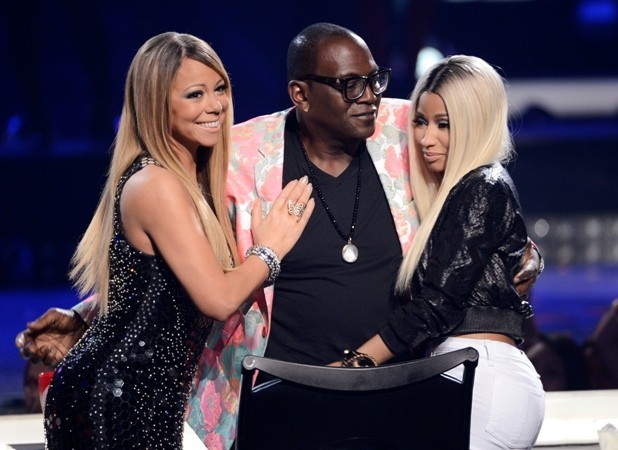 In a recent interview with HOT 97 radio, Mariah Carey compared judging American Idol to "Hell" and co-judge Nicki Minaj to "Satan."
Mariah Carey may have been one of the favorite American Idol judges but the singer simply "hated" the experience, she revealed in an interview with HOT 97 radio, Wednesday. Carey, who was roped in as a judge for the twelfth season of the talent show said that judging the show was like working "every day in hell with Satan," E! News reports.
"Honestly, I hated it," Carey said of her single season on the Fox show. "I thought it was going to be a three-person panel. They gave me a nice dangling monetary moment, and I was just like, 'Okay. Randy Jackson will be there; I've known him forever. He used to play bass for me. Like, this isn't a big deal. This will be nothing.' But it wasn't that. It was like going to work every day in hell with Satan."
No brownie points for guessing who Carey was referring to when she said working with "Satan." Seems like the "Hero" singer still hasn't gotten over the string of feuds with former judge Nicki Minaj while on the show. However, right after blurting out the previous sentence she tried to downplay her comment saying her fights with Minaj didn't bother her much, though she was "disappointed."
Moving to the positives of the show, Carey said the one thing she loved about American Idol was its contestants. She said that not only were they real good singers, some of them were also really good people. She also revealed that she used to be upset when some of the other judges on the show wouldn't let some really deserving contestants through, because of "political reasons."
Neither Carey nor Minaj or Randy Jackson will be returning to judge another season of the popular reality show. However, according to a Huffington Post report, Jackson will remain a mentor in Season 13 while Keith Urban will be joined by Jennifer Lopez and Harry Connick Jr. to judge the new season.