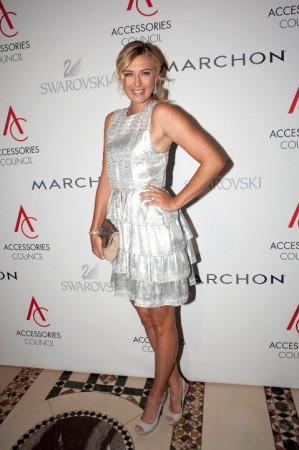 Russian tennis player Maria Sharapova battled a stomach ache before losing the Olympic 2012 final to Serena Williams on Monday. But the stomach ache was nothing more than that.
The 25-year-old tennis player had suffered from a stomach virus that forced her to out of two tuneup tournaments.
After three weeks of taking rest Sharapova reached the second round of US Open championship after winning over Melinda Czink of Hungary with 6-2, 6-2 in a 67-minute first-round match at Arthur Ashe Stadium, New York, on Monday.
During London Olympics 2012, Sharapova was suffering from a stomach ache which got more serious a few weeks later. She then took a blood test and an ultrasound to check out whether she was pregnant, but the reports come out to be negative.
"[I went to get the tests [just because of the pain I was having. It was really weird. They told me I was fine, not pregnant. I'm like, 'Can I get my money back?'" AFP quoted Sharapova as saying.
"It was worse when I got to Montreal. At the end of the day, I think it was some stomach bug. But I thought it was getting better. Then I started eating like the normal Maria and it wasn't better," the tennis star said.
"I don't think we should make this much more dramatic than it was. I mean, at the time I was being dramatic, but I'm fine. I was fine," she said.
Apart from pregnancy rumours there are reports that the Russian tennis player was going to marry her fiancée Sasha Vujačić, a basketball player who played for Los Angeles Lakers and the New Jersey Nets in Istanbul last November.
However, she denied the marriage report saying, "I don't have a wedding coming up in November. That's not true. I'm definitely not getting married in Istanbul in November. I'm surprised anyone believed that."