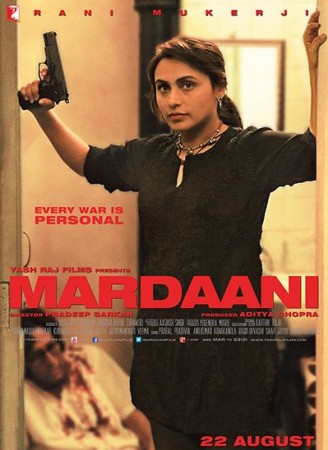 Rani Mukherji's "Mardaani" that created a buzz in its recently launched trailer, has got into trouble after the Central Board of Film Certification was apparently dissatisfied with hard-hitting scenes from the film's promo.
"The board has asked for the profane words to be deleted from Mardaani's promo. Apart from this, there was a scene in the promo showing a man attempting rape and this was also asked to be edited out; it showed the man pull at the blouse of a woman." according to a source, reported Mid Day.
The filmmakers have also been asked to erase the cuss word, ha*****da from the film's trailer. However, the film's spokesperson have not yet confirmed about the issue.
The Censor Board, in the recent past, had been relaxed in the use of profanity. The board used to categorise movies and certify them as per the number of such words being used.
But, if the verbal abuse in "Mardaani" trailer is considered, it would be a road blocker for its makers. The film has Mukherji play a senior cop and her fight against child-trafficking cases.
"Mardaani" is inspired by real-life stories and the trailer gives an insight into the world of child trafficking in Mumbai and New Delhi.
The movie is produced by Yash Raj Films and is very different from the regular romantic movies that the production house is known for. Set to release on 22 August, it is expected to make huge impact on the viewers, who are eagerly waiting for its release.
The film is directed by Pradeep Sarkar, who had earlier worked with Mukherji in "Laaga Chunari Mein Daag" (2007), which was also produced by Yash Raj Films.
The Censor Board has recently objected to a kissing scene in the not-yet-released movie, "Humpty Sharma Ki Dulhania," starring Varun Dhawan and Alia Bhatt.
"The board was not okay with the close-up shots of the kissing scene between the actors. They have, however, allowed a long shot," a source close to the Censor Board told Mid Day.
After several conflicts with the makers and the board, the trailer was eventually passed, but only with a long shot of the duo kissing, as the close-up shots of the lip lock has been deleted from the trailer.