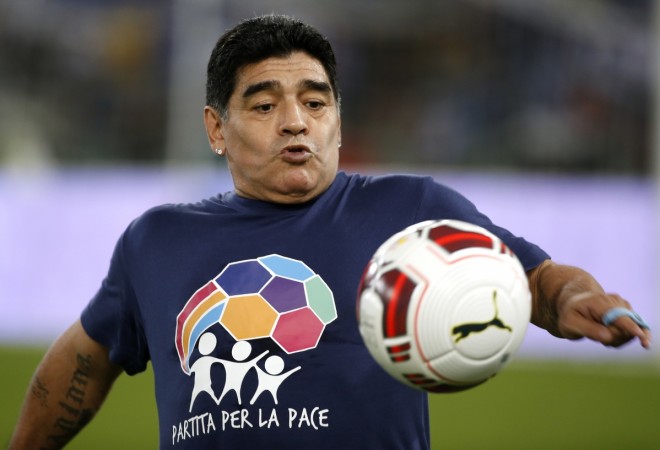 Football legend Diego Maradona has admitted that his usage of drugs hampered his potential as a player and he feels a lot older than he really is due to substance abuse.
"I knew that with my technique I would have eaten defenders up. When the ball was between my feet, others couldn't help but get excited," Maradona said in an interview with Tyc Sports on Thursday.
The former Nepoli and Barcelona player had an illustrious career and was regarded as one of the greatest footballers in the history. However, it all changed after he was banned for 15-month in 1991 for failing a drug test.
At the age of 53, the Argentina great feels like he is 78-years-old due to a life that "hasn't been normal", owing to drugs abuse.
"That needs to be said. People tell me, 'Diego you are 53 years old now'. Fifty-three? I've lived 80 with everything that I've gone through," he says.
Maradona, who was a part of Argentina's 1986 World Cup-winning team said, he has given huge advantage to his rivals due to illness.
"I gave my opponents a big advantage due to my illness. Do you know the player I could have been had I not taken drugs?" Maradona added. "I'd have been a phenomenal player."
However, he admitted that his sacking as Argentina coach after the 2010 World Cup still hurts him.
"It was painful. I wanted to continue," he said. "I didn't watch the team in the (2014 World Cup) qualifiers but in the World Cup you feel it. It's a lie that our blood is red. It's blue and white. I wanted the team to win."
Meanwhile, he also regretted Argentina's 0-1 loss against Germany in the 2014 Brazil World Cup and said it was certain as Argentina had no upper-hand over ruthless Germany.
"We didn't have the players to take the game to Germany," he said.
"And Germany had 50 more variations than we did. It wasn't a balanced match. Argentina didn't have the conviction to win."
The former No. 10 is currently unemployed after he was sacked from Dubai-based club Al Wasl FC in July 2012.