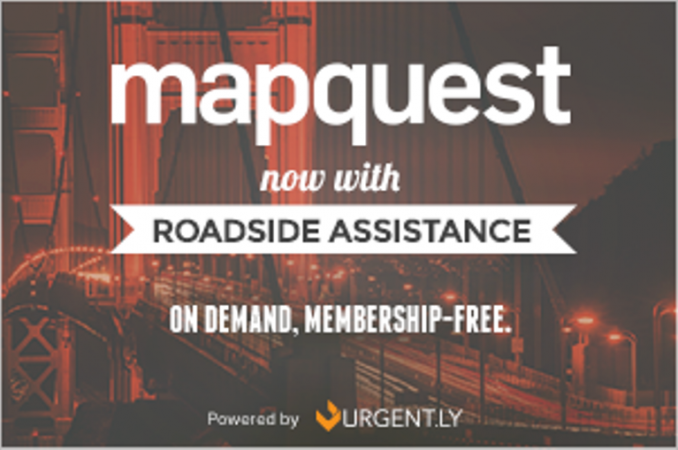 MapQuest, a free mobile navigation app for Android and iOS, is going an extra mile to help its users with 24/7 roadside assistance without ever leaving the app. In an update rolled out to the iOS version of the app, MapQuest added a new button for "Roadside Assistance" in the menu in order to get on demand support for any hiccups during your journey such as a flat tyre, tow service or even lock-outs.
MapQuest offers roadside assistance through its partnership with Urgent.ly, which already provides the service nationwide, according to the MapQuest blog. It serves as a boost to both companies by offering directions and roadside assistance without looking elsewhere. With the addition of this new feature, MapQuest stands out in the crowd widely dominated by mobile OS providers such as Apple Maps for iOS devices and Google Maps on Android smartphones.
"By partnering with MapQuest, we can take Urgent.ly nationwide, bringing on-demand emergency roadside assistance to customers throughout the US," Urgent.ly CEO Chris Spanos said in a press statement published by Market Watch. "For the first time, drivers will have access to transparent, reliable roadside help through a free navigation app, without membership fees or expensive auto club dues. Because Urgent.ly offers flat-rate pricing and only charges drivers for services they actually use, we can provide help to millions of MapQuest users whenever and wherever they need it," said Spanos.
The new Roadside Assistance button on the menu bar offers options of problems faced and the owners need to key in the make and model of the car, name and contact number. It also lets users locate, track and communicate with nearby roadside assistance vehicles and pay for the service using a credit card.
In the company's support page, MapQuest noted certain limitations to the service such as sale of batteries, tyre repairs and impounding of vehicles.
The updated app is available as a free download for iPhones and iPads from iTunes. The roadside assistance feature was added to its Android counterpart last month, which can be downloaded from Google Play Store.