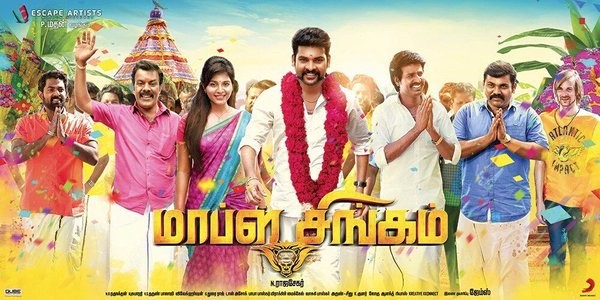 Vimal is returning with his latest movie "Mapla Singam," also spelt as "Mappillai Singam." The Tamil movie, directed by Rajasekhar and produced by P Madhan, hit the screens Friday, March 11.
Anjali has romanced Vimal in "Mapla Singam." The duo had earlier paired up in "Kalakalappu" and "Thoonga Nagaram." Their chemistry had worked well then and this factor led the makers of "Mapla Singam" reunite them for the film. The cast includes the likes of Soori, Madhumila, Radha Ravi, Swaminathan, Ramdoss, Kaali Venkat, Manobala, Vishnu, Mayilswamy and Singamuthu.
Don Ashok-written "Mapla Singam" has NR Raghunathan's music, VS Tharun Balaji's cinematography and Vivek Harshan's editing.
The trailer and the other promotional materials have managed to garner decent pre-release talk for "Mapla Singam," which is a complete comedy entertainer.
Vimal will be seen as an aspiring politician named Anbu and Anjali plays the role of a lawyer named Shailaja in the film. Radha Ravi plays Anbu's uncle. The main plot of the movie is about the ego clashes between two families of different villages. As in many cases, they are fighting for minor issues. The story gets complicated when the hero and heroine start liking each other.
Reviews:
Vimal has been successful in rural-based films before and the director's decision to cast him has worked out well as the hero has done his role with ease. His combo with Anjali has worked again. The movie is lively at major parts even though it lags pace in the second hour. Overall, the movie has just turned out to be a simple comedy film, which might be liked by rural audience. Find the audience response to "Mapla Singam" here:
Priyanka tweeted: #MaplaSingam is a rural based story, simple and entertaining.
#MaplaSingam Vimal pulls off his dhoti-clad role well. #Anjali is damn good.
#MaplaSingam Overall, it is just a time pass entertainer. No complaints pls.
Saleem Basha tweeted: #MaplaSingam - #Anjali looking Fab and Bold Role! Performing the stunning dialogues in a neat manner! Good Entertainment,. @yoursanjali
Surendhar MK posted: #MaplaSingam is yet another mundane rural entertainer from Vemal, who manages to do more than just sleepwalking this time.
Rinku Gupta wrote: #MaplaSingam jolly family entertainer@ActorVemal @yoursanjali make good pair. laughs frm supporting cast all th way!