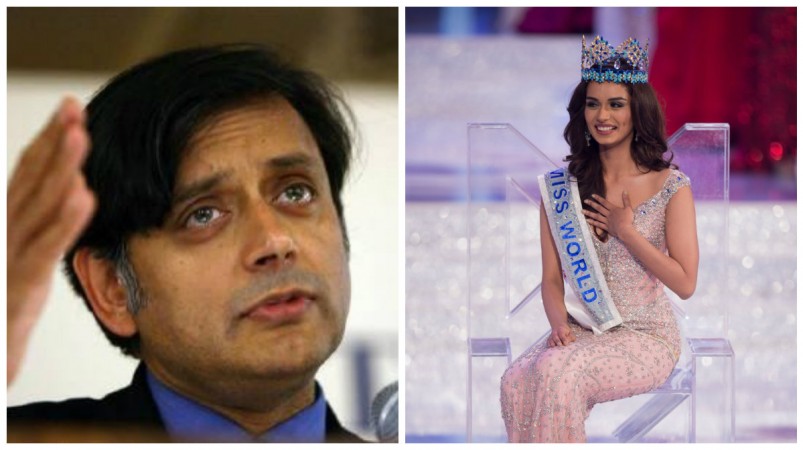 A tweet by Congress leader Shashi Tharoor on Manushi Chhillar, who made India proud by winning the Miss World 2017 title, made headlines. However, the Congress MP later apologised for his "shameful" tweet.
In an apparent attempt to take a dig at Prime Minister Narendra Modi and demonetisation, Tharoor made a sarcastic tweet with a bit of wordplay on Manushi's surname. His choice of words did not go down well with most of his followers, who criticised him for it.
"What a mistake to demonetise our currency! BJP should have realised that Indian cash dominates the globe: look, even our Chhillar has become Miss World! [sic]" he tweeted. Chhillar sounds like "chillar," one of the the Hindi colloquialisms for small change — lower-denomination coins.
Manushi gave him an apt reply: "Exactly @vineetjaintimes agree with you on this. A girl who has just won the World isn't going to be upset over a tongue-in-cheek remark. 'Chillar' talk is just small change - let's not forget the 'chill' within Chhillar @ShashiTharoor [sic]."
The Congress leader was even otherwise slammed left, right and centre. Twitterati found the tweet extremely disrespectful and misogynistic. Although Tharoor praised the Miss World in a later tweet, it did not help matters.
"What a terrific answer by this bright young woman -- a real credit to Indian values! #missworldmanushi [sic]," he tweeted, sharing the answer that won Manushi the title. However, many felt his second tweet was just an attempt to cover for the previous "distasteful" one.
ALSO READ: Miss World 2017 Manushi Chhillar's diet plan revealed and these top 10 photos are proof of her beautiful look
Eventually, Tharoor gave in to the criticism and apologised for his words in a third tweet.
"Guess the pun IS the lowest form of humour, & the bilingual pun lower still! Apologies to the many who seem to have been righteously offended by a light-hearted tweet today. Certainly no offence was meant to a bright young girl whose answer i've separately praised. Please: Chill! [sic]" Tharoor tweeted.