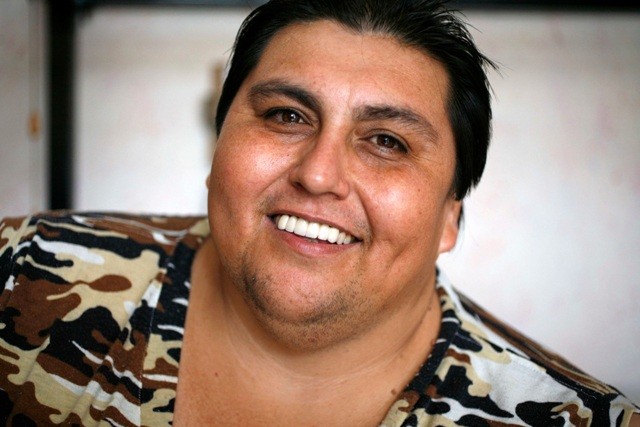 Manuel Uribe, the Mexican who was the world's former heaviest man, died on Monday at the age of 48. The cause of death is yet unknown, but he is believed to have suffered from cardiac and liver problems.
Earlier this month, Uribe was taken to the hospital with a crane and was found to have an abnormal heartbeat.
He was confined to bed for a long time, and had been unable to walk on his own due to excess weight. The Mexican entered the Guinness World Record in 2006, when he won the title of the world's heaviest man alive. At the time he weighed about 1,230 pounds.
But two years later, he slimmed down to nearly half his body weight with the help of doctors from the United States, Italy and Mexico. At the time, he told the media that he wanted to walk down the aisle when he got married to his girlfriend of two and a half years, Claudia Solis.
However, despite his weight loss, Uribe had to be transported to the wedding venue, the Club de Leones, on a bed that was hoisted onto a flat bed truck.
"I used to ask God to please send me a woman who would love me as I am," Uribe said at the time, People reported. "I'm so thankful that he sent me Claudia. I know if she loves me as I am now, with this problem that I have, she'll love me when I'm finally able to walk again."
Reports have it that Uribe had been struggling with his ballooning weight since his adolescent years. Reportedly, he weighed more than 250 pounds as an adolescent, and it started getting out of control in 1992.
In 2007, Uribe told ABC News: "I had an obesity problem for many years, a very significant one. I was gaining and gaining weight. I was on every diet you can imagine."
"I used to eat normal, just like all Mexicans do... beans, rice, flour tortilla, corn tortilla, French fries, hamburgers, subs and pizzas, whatever regular people eat. I worked as a technician, repairing typewriters, electronic calculators and computers. So I worked on a chair. It was a sedentary life," he said.
Interestingly, Mexico has one of the highest obesity rates among the Latin American countries, and it is believed that by 2020, six of the 10 most obese nations will be in the region. Venezuela, Guatemala, Uruguay, Costa Rica, the Dominican Republic and Mexico are expected to top the charts in six year's time.
In these countries, especially Mexico, diabetes is believed to be the leading cause of death in women, and second in men, according to a World Health Organisation report.