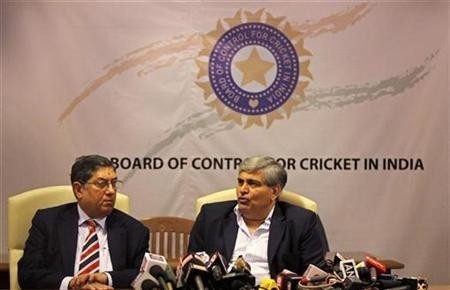 Former BCCI president Shashank Manohar blasted current supremo N. Srinivasan after the latter extended his stay as the chief of India's cricket board by a further year.
Manohar believes Srinivasan should have stepped down as president the moment his son-in-law Gurunath Meiyappan was questioned, and eventually chargesheeted, over the spot-fixing scandal.
"Srinivasan has no right to continue as president," Manohar told Mumbai Mirror. "If you had the slightest of conscience, self-esteem and care for the board, you ought to have put in your papers the moment your son-in-law was arrested.
"You did nothing and, as a result, the board's reputation has taken a hit to the extent that the people have lost faith in this board."
Manohar, who was the BCCI president from 2008 to 2011, claimed a lot of the members had asked him to stand against Srinivasan, with the CSK owner eventually winning the election unopposed.
"Many people, including Mr. Dalmiya, requested me to come back and contest," Manohar said. "I left the board two years back and I have not entered its premises again. I have no intention to come back.
"I said if all the members want me, I will not shirk the responsibility. This board has given me a lot and I was willing to give something back."
Manohar believes Srinivasan is only worried about protecting his supporters, while terming the current BCCI president as an "autocrat."
"He is trying to shield everybody, his team included," Manohar added. "He does not want to clean this mess. If my son was in Srinivasan's position, I would have asked him to resign. Srinivasan is an autocrat and wants all the power for himself.
"He told the media that his son-in-law was just 'an enthusiast.' His counsel argued before the courts that Srinivasan did not choose his son-in-law but his daughter did. It is laughable. A person who cannot defend his family member has no right to say he will take responsibility of the board."
According to Manohar, there is more than enough evidence to prove that Meiyappan was indeed involved in the inner workings of the Chennai Super Kings, despite Srinivasan's denials.
"There is a lot of evidence of Meiyappan being the team principal," he said. "The truth will come out. I don't have to state this. It is a fact. He has been chargesheeted and the law will take its own course, but the evidence is very much there."