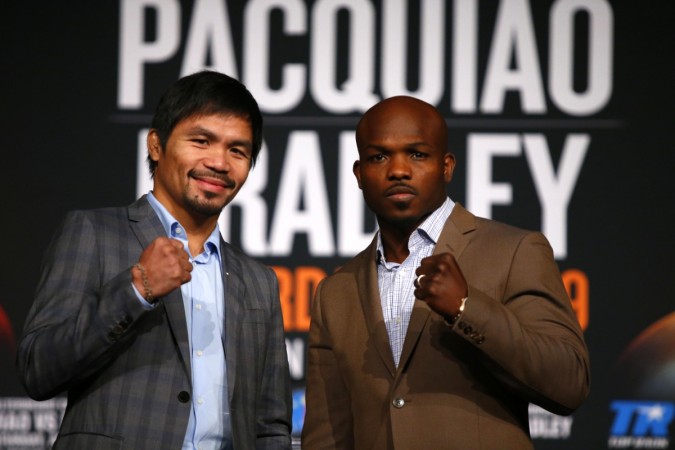 Filipino boxing legend Manny Pacquiao goes into probably the final fight of his career and he will definitely expect to bow out on a high, much like Floyd Mayweather Jr. The 37-year-old Congressman steps inside the ring with Timothy Bradley for the third and final time in his career.
Both fighters have one win over the other from their last two fights and the grudge match Saturday is expected to be unmissable by any means. In the first boxing bout between them held in June 2012, Bradley won the fight after 12 rounds via a judges' split decision to take the WBO Welterweight title home.
The decision from the judges was highly criticised by the boxing aficionados as they demanded an immediate rematch. Two years later, a determined Pacquiao came back and did what he does the best to record a unanimous win over Bradley to take the title back on April 2014.
Many things transpired for the Philippines fighter in these two years. He lost the "Fight of the Century" against Mayweather last year in Vegas by a unanimous decision and later had to undergo a surgery to repair a torn rotator cuff. Also, he was embroiled in a controversy after comparing homosexuals to animals.
One thing that Pacquiao has never lacked is taking the fight to his opponent and we all witnessed that during the Mayweather-Pacquiao fight. Coming into the fight at the back of a 57-6-2 record in pro boxing, "Pac-Man" is definitely the favourite against the 32-year-old Bradley, who has a 33-3-1 record.
"Overall I think that if Bradley does what he did the other day versus [Rios] - if Bradley fights that way right there, Pacquiao doesn't have a chance," Floyd Mayweather Sr. commented on Boxing Scene, recalling Bradley's impressive win against Brandon Rios last November.
"That is what my son [Mayweather Jr.] did. He hit him [Pacquaio] when he wanted to and then went and moved. Moved and hit him. That is it and Bradley can do the same thing," Mayweather Sr. added.
Manny Pacquiao vs Timothy Bradley 3: Fight schedule
Date - April 9, 2016.
Time - 6 p.m. ET / 3 p.m. PT
Venue - MGM Grand Garden, Las Vegas
Referee - Tony Weeks
Rounds - 12
Weight division - Welterweight
TV listings - HBO, ESPN, CBS Sports Network, Showtime (USA), Premier Sports (UK)