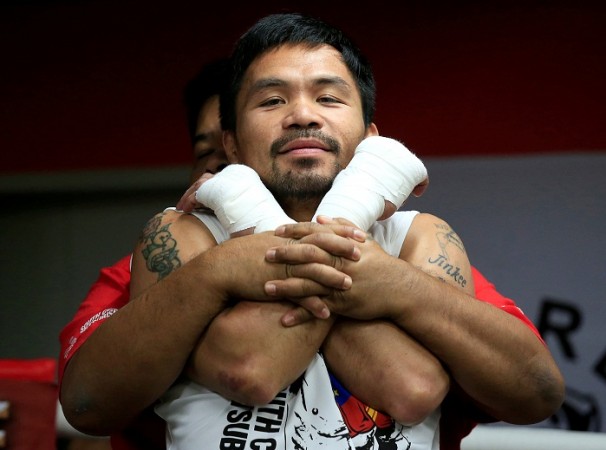 Boxing fans, especially Manny Pacquiao's supporters, are eagerly awaiting the return of the Filipino boxer, who has come back from retirement for a mega bout next month. We are just less than a month away as Pacquiao will face Jessie Vargas on November 5 at the Thomas & Mack Center in Las Vegas, Nevada.
Pacquiao is one of the greatest boxers to have ever taken up the sport, and is loved by fans all over the world. The Filipino retired in April 2009 after defeating Timothy Bradley, but the boxer is now determined to become a world champion, which will be possible if he can get the better of Vargas.
Pacquiao has an impeccable record inside the boxing ring, with a 58-6 win-loss ratio in his professional career. Pacman does not want to go into this fight as an overconfident boxer, as Vargas is also a quality competitor, who has only lost one fight so far. The Filipino has had some quality sparring sessions, and Pacquiao is taking his preparations seriously to shine in Las Vegas.
"My goal is to become a world champion again and Vargas is the world titleholder. I want to get another world title. I know what I'm going to do. But I'm not going to be overconfident in the fight. I know Vargas' style that's why I'm doing my best in training because he is a good opponent. I feel good in my sparring session the past few days and (Jose) Ramirez is helping me a lot absolutely for my preparation," Manila Times quoted Pacquiao as saying.
Pacquiao, who joined politics in his native country Philippines, also became a senator, and has been busy with the affairs in the country. The boxer wants to show that he can maintain a fine balance between his time in politics and sports.
"I don't have any problem doing my job in the Senate and my training. I'm enjoying my job and at the same time. I want to prove to my fans that I can manage my time as a boxer and being a senator," he said.