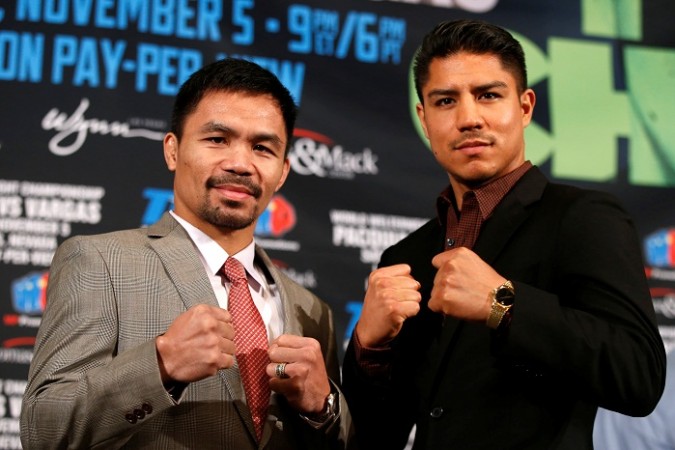 The highly-anticipated return of Manny Pacquiao is inching closer with the Filipino set to take on WBO welterweight champion Jessie Vargas for the world title at Thomas & Mack Center in Las Vegas on Saturday.
Pacquiao had retired from the sport after his last fight with Timothy Bradley earlier in the year, and joined politics in the Philippines. The boxer then went onto become a Senator in his home country, but that did not deter promoter Bob Arum from approaching him to reconsider his retirement.
After Arum managed to convince him for a mega fight, Pacquiao also decided to make a comeback, and a fight with Vargas was arranged. Though this is not the sort of fight, which would immediately grab attention of world boxing fans, Pacquiao's supporters will be pleased just to see him inside the boxing ring as an interesting clash awaits them.
What makes this clash even more interesting is the fighting styles of both the boxers. Pacquiao and Vargas love to attack, and are aggressive boxers, who will not shy away from knocking out the opponent. With both boxers expected to take an offensive approach, Pacquiao might fancy his chances with his swift hands.
It is at this juncture, Vargas needs to be careful. The American cannot afford to be reckless during the contest and get too excited, which could lead to his downfall against an experienced boxer. Vargas might start the match as an underdog, but he has the game to stun Pacquiao, and hand the Filipino only his seventh loss in his professional career. Pacquiao's last loss came against Floyd Mayweather in the "Fight of the Century" clash in May 2015.
Vargas needs to have a solid game plan against Pacquiao if he is to emerge victorious. Besides his offensive plans, which will include a strong overhand right, he has to show some strong defensive game. Vargas has a strong punch, so it is going to be about the timing as well. If the American can land his punch, and hurt him, anything can happen.
One thing which could go for Vargas is Pacquiao's preparation time. The Filipino might not have much time to prepare as he would have liked, but make no mistake Pacquiao is an amazing boxer, and nobody can take his reflexes, quick movement and fast hands away from him, which has always been his forte.
Irrespective of how the bout ends, Vargas will go home with his best payday in his career so far as he will pocket $2.8 million. Though Pacquiao's share from the match will only be known later on, he will make major revenue from the fight as the Filipino will be earning it on a percentage basis.
Manny Pacquiao vs Jessie Vargas boxing schedule
Date: November 5
Time: 10 pm ET on Saturday ( 2 am GMT, 7:30 am IST 10 am Philippines time [Sunday])
Venue: Thomas & Mack Center in Las Vegas
TV listings: Box Nation (UK), Solar Sports (Philippines)