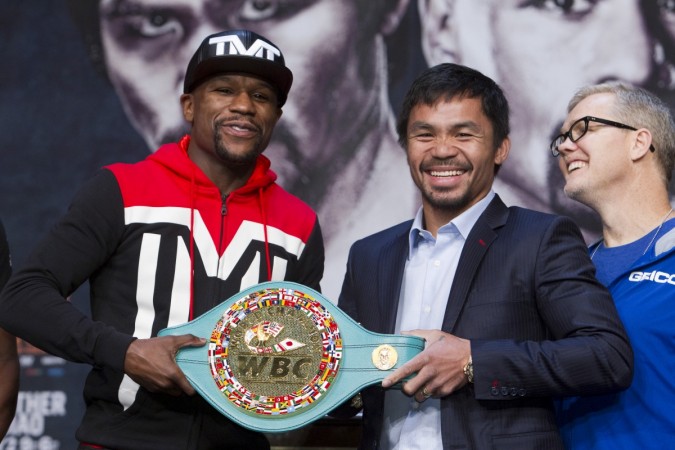 To some extent, the fight of the century between Floyd Mayweather and Manny Pacquiao is all about figures with the bout said to be the richest ever in boxing history. The fight may even surpasss the expected figure of $300 million.
Tickets are also said to be the most expensive, even if they got sold like hot cakes in a matter of minutes. The bout between the two best pound-for-pound boxers has garnered huge interest worldwide as well.
Both Mayweather and Pacquiao has huge pride at stake. Irrespective of the result, the American will pocket 60% from the bout, while the Filipino is expected to make 40%.
But, it is not only these boxers who will be eager to make some money from the bout. With the hype surrounding the mega fight, there will be a number of fans who will not mind betting to make some money as well.
Various betting sites have placed Mayweather as favourite to win his bout against Pacquiao. Bet365 has placed odds of 4/9 favouring Mayweather. Skybet has also placed an odd of 1/2 for the American's victory and 15/8 for a Pacquiao win.
Both UNIBET and 888sport believe Mayweather is 7/15 for a win.
So far, the most popular bets has been 4/7 on a Mayweather win, while it is 2/1 for Pac-Man's victory.
Though, betting odds might favour Mayweather, the boxing fans are aware of the fact that the American might turn up second best. Hence, it might be no surprise if people place their bets on Pacquiao and take home some huge money.
With more than a day left for the bout, one should not be surprised if the odds change slightly in the next 24 hours, even if smart money is thought to be on Mayweather.
Here is a look at some odds, which has been placed for the bout.
Sky Bet
Floyd Mayweather - 1/2
Manny Pacquiao - 15/8
Titanbet
Floyd Mayweather - 1/2
Manny Pacquiao - 7/4
Bet Fair
Floyd Mayweather - 4/9
Manny Pacquiao - 19/10
MATCHBOOK
Floyd Mayweather - 8/15
Manny Pacquiao - 21/10
All betting information provided has been taken from oddschecker.com
Most Popular Bets
Floyd Mayweather - 4/7
Manny Pacquiao - 2/1