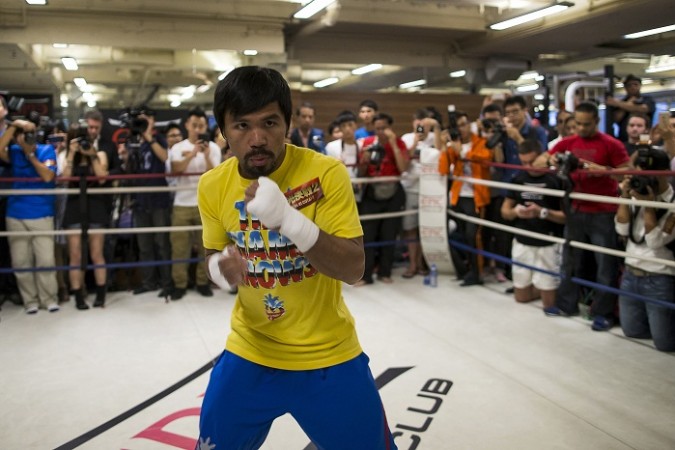 Floyd Mayweather Jr. threw in a barb recently to maybe try and throw Manny Pacquiao off his game a little ahead of the Filipino's title fight with Chris Algieri later this month. Mayweather had said Pacquiao only keeps talking about a possible fight with the unbeaten American to drum up interest for his fight with Algieri, with the Filipino, as always, deciding not to take the bait.
Reports of a Pacquiao vs Mayweather matchup has caught fire recently with the former's promoter Bob Arum saying a few times that talks were on for a possible multiple fights next year.
However Mayweather distanced himself from all of those reports, hinting that a deal for the two greats of the modern era to fight was far from set in stone, while also suggesting it was a ploy employed by Pacquiao and his team to try and invoke as much interest in his fight with Algieri, which will be held in Macau on 23 November.
Again, when asked about a possible fight with Mayweather in the future, the one that every boxing fan wants to see, Pacquiao this time made sure all the talk ahead of his next fight would be around just that, and not Mayweather.
"I don't want to bring up Floyd's name because he might think I'm using him to market my fight against Algieri," said Pacquiao to PhilStar. "After the Algieri fight, then we can talk about Floyd or any other fighter.
"At the moment, my main and only focus is Algieri."
Pacquiao, who recently made his professional debut in basketball, a sport that he loves, knows that the fight against Algieri will be far from a foregone conclusion, with the 30-year-old American's ability to keep his distance from his opponents during the fight set to test the Filipino legend's patience and resolve.
"Algieri is tall like [Antonio] Margarito but they don't fight alike. Algieri fights more like [Jorge] Solis. They're tall and they like to jab.
"I have to stop him from running. I know what I have to do. If I throw 1-2-3-4 combinations, I don't think he'll just stand to get hit. I'll chase him down, maybe attack the body so he loses his quickness. But if he's quick, I think I'm quicker.
"I'm not predicting a knockout only that I want to win convincingly."