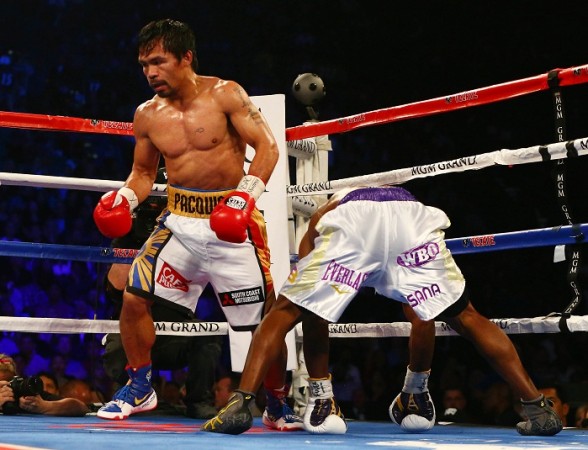 It has just been a few months since boxer Manny Pacquiao decided to retire following his victory over Timothy Bradley. However, the Filipino has made a u-turn and will now make a return later this year in Las Vegas against an opponent yet to be decided.
Promoter Bob Arum, from the day Pacquaio retired from the sport, has been hinting about 'Pacman' coming out of retirement for yet another fight. But the big question remained if the Filipino, who had joined politics, and also became a Senator in May, would be able to find time from his job to prepare for a fight.
Pacquiao, though, has found a way to do both his jobs, which is bound to excite fans. However, Pacquaio will only get a chance to start his training from mid-October, after the budget work is done in the Philippines, leaving him just two weeks to train. Will that be enough?
"Manny wants to come back. The problem is he can only come back if it doesn't interfere with his senate duties. We had penciled him in for Oct. 15 at Mandalay Bay but we were informed that is no longer possible because he has to spend that week leading up to Oct. 15 formulating the budget in the senate and doing the votes," ESPN quoted Arum as saying.
"So he has to be there for that week, so that knocks out that week. He can't mess around with that. So now we're looking at Oct. 29 or Nov. 5. The question is building availability because we want to do the fight in Las Vegas."
Now, with Arum confirming Pacquiao's return, fans will be eagerly waiting to hear about his opponent. One name, which was doing the rounds even before the promoter made the Filipino's comeback from retirement public, is Adrien Broner. But, the bout may not happen as Broner is said to have reportedly asked for a huge sum, which Arum is not too keen on.
One thing is for sure, the boxer, who fights against Pacquiao will will also earn good amount from the bout, irrespective of the result. Though the senator has always shown interest for a rematch against Floyd Mayweather, after his loss last year, the dream matchup Part II might not happen. Hence, Arum needs to look at other available options.
British boxer Amir Khan and Canelo Alvarez from Mexico are possibilities. But, will Pacquiao fight against a top boxer, as he will not have much time to prepare, and not want to risk his legacy as well?