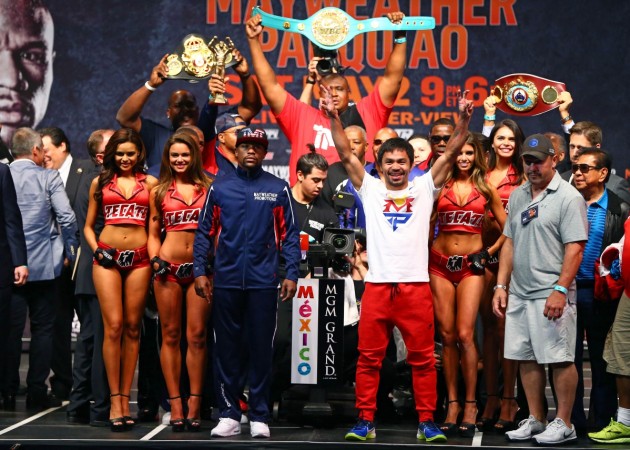 Floyd Mayweather and Manny Pacquiao are two of the greatest boxers, who graced the sport in the last decade or so, and their 'Fight of the Century' last year shattered all box office records. More than 12 months have passed since that unforgettable fight, and they have both retired from boxing. However, talks of a potential rematch has been brought about by trainer Freddie Roach once again.
Boxing fans will love to see Mayweather and Pacquiao inside the ring one more time, but the chances of the two boxers coming out of retirement for a rematch does not look likely. However, Roach believes Pacquiao could fight again, if Mayweather stands as his opponent. The Filipino hung up his gloves after an impressive win over Timothy Bradley in April.
"Manny and [his manager Michael] Koncz both told me after the last fight that they do feel strongly about trying to get Mayweather one more time. I think that's the only fight he'd come back for," Los Angeles Times quoted Roach as saying.
The trainer even hinted at a fight with Canelo Alvarez, one of the top boxers in the middleweight division at present. However, nothing tops Mayweather vs Pacquiao.
Pacquiao, after having left the sport, is actively involved in politics in the Philippines, so one is not sure if he will be able to devote more time in his training, and prepare for the fight if it shapes up.
"He could come back for Canelo [Alvarez], too, but he's not as big a draw as Mayweather-Pacquiao II. One more fight, I would like to see it, but does he have time to do it as a senator? I'm sure there's a lot more work to do. But I know he has at least one more [fight] in him. He showed flashes of the old Manny last fight," Roach said.
The 'Fight of the Century' generated as much as $600 million in total revenue, and another bout could also conjure a similar amount.
With such figures, Justin Fortune, Pacquiao's conditioning coach, believes that the Filipino could come out of retirement and fight Mayweather. The Filpino has a strong desire to help people in Philippines in whatever way he can, and this money could play an important role in achieving some of his goals.
"Manny's whole deal is to help people, which is why this fight can happen. If this [Mayweather] fight happens, and [Pacquiao] earns millions and millions, he can use it to help his people. That's why he'd fight again, the sole reason. People can say that's stupid. No, it's admirable," Fortune said.
"He has enough money for his family, for himself. If he fights again, it's solely to help people."