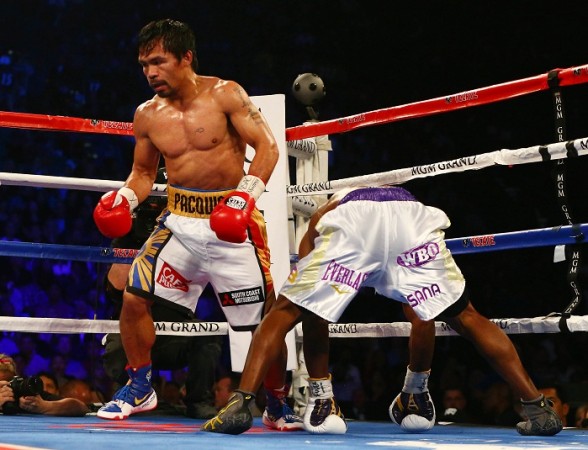 Manny Pacquiao and Floyd Mayweather fought in what was regarded as the 'fight of the century' in May 2015, in which the American stood victorious. After the fight, it emerged that Pacquiao was not in perfect shape because of which the Filipino also talked about a rematch. Now, the boxer has once again reiterated his interest in fighting ''Money'' if the American agrees to it.
However, the match seems to be far off as Mayweather hung his gloves after fight with Andre Berto in Sept. 2015 The American walked off the sport, equalling Rocky Marciano's win-loss record of 49-0. If he gets back to competitive boxing, which fans would love, it will be his 50th fight.
Talking about retirement, Pacquiao had also called it quits after defeating Timothy Bradley in April 2016. But the boxer was convinced to reconsider his decision, despite his Senatorial duties in Philippines. The former welterweight world champion will make a comeback as he is set to fight Jessie Vargas in Nov., but he also has his eyes on a possible bout against Mayweather.
Though Pacquiao has come out of retirement, the Filipino believes that it will be difficult to convince Mayweather. Only money may be able to lure Mayweather, believes Pacquiao.
"If the fans want it, and he wants it, then I'm open to it (rematch). I'm open to any fight. You know in his heart, he doesn't have concern for the fans. His only concern is to make money. My concern is not only to make money, but how I entertain the people, how I entertain the fans," AFP quoted Pacquiao as saying.
If Mayweather somehow agrees to make a comeback and fight Pacquiao, it could be another huge money churning day for both the boxers.