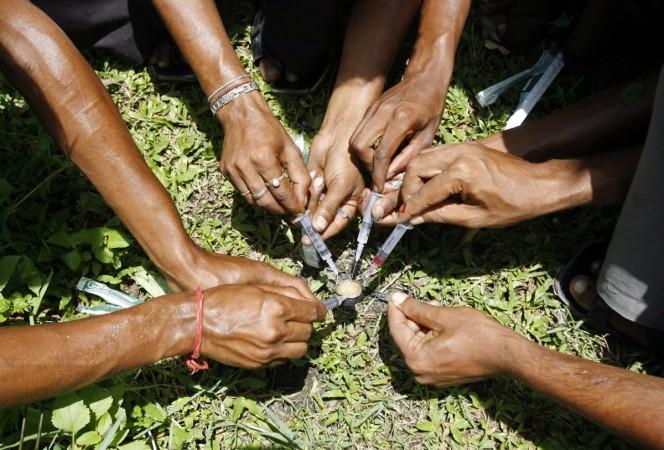 In his third radio address in the series "Mann Ki Baat", Prime Minister Narendra Modi on Sunday advised youths not to get addicted to drugs as they not only destroy them and their families, but also fund arms that kill Indian soldiers.
"Have you ever wondered, where the money you spend on drugs go? The bullet that hits our soldiers is backed by drug money," NDTV quoted him as saying.
Modi then asked the youths to decide whether they want to end up helping terrorists and the drug mafia by buying drugs, and in the process inflict twin damages.
"It can destroy very good families. Drugs are something that can shatter anyone," IANS quoted Modi as saying. "Have the courage to say 'no' (to drugs) and reject drugs. Tell your friends the same."
Modi also referred to his address last month when he had invited views on drug abuse and asked NGOs to share their experiences to know more about the gravity of the problem.
He said, "I have always heard that if you share grief, you lessen your burden and if you share your happiness, it increases. I'm pained by the grief of families whose children get caught in the trap of drug menace."
"I am worried as some sons and daughters get stuck with drugs and the entire family is torn apart," he added.
He described drugs as a 3D problem – destruction, devastation and darkness – and said that the problem needs to be treated not just medically, but also with emotional care.
"When a child is stuck in something like this, we blame the child. But it is the habit which is bad, not the child, and we should try and keep them away from such things. This is a psycho-social medical problem and cannot be solved only through medical means," said Modi.
He asked parents to treat their children like friends and know them better.
"Our ancestors said a child should be treated with love until the age of five years, by the age of 10, a child should be disciplined and when he is 16, treat him like a friend," said Modi. He asked them to know what is happening deep inside their children's heart.
Modi said bad habits do not come at once; they start clutching a child slowly and gradually grow to become a severe problem later in life, and it is ignorance that nourishes bad habits. Only parents who can prevent their children from falling prey to bad habits, according to him.
"By knowing your children and being close to them will keep them away from problems like drug abuse," said Modi.