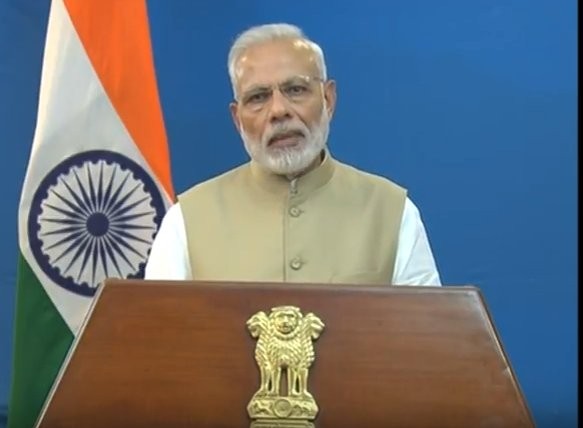 Prime Minister Narendra Modi lent his support to Bangladesh on its Independence Day and also said that India is marking the 100th anniversary of the Champaran Satyagrah. He honoured Mahatma Gandhi, Rabindranath Tagore, Shaheed Bhagat Singh, Sukhdev and Rajdguru for their efforts for the country.
He also spoke about his swacch bharat campaign and digital India campaign. He addressed the issue of depression and food wastage during his 30th Mann ki Baat address on Sunday.
11:30 am IST: PM Modi ends Mann ki Baat for March 2017.
11.28 am: PM Modi asks listeners to send their suggestions through the Narendra Modi app for 3rd Yoga Day.
11:27 am IST: Depression is the theme of this year's World Health Day on April 10. Over 35 crore people around the world suffer from depression. PM Modi asks parents to keep a watch on their wards who could be feeling lonely and depressed.
11:25 am IST: Wastage of food is unfortunate. I know of several youngsters who are using technology & helping prevent wastage of food.
11:21 am IST: India has extended support to movement towards digital transactions. People have rejected corruption & black money, said PM Modi.
11:19 am IST: A class XI student from Uttarakhand sends a voice message to the prime minister. He takes about how people have been littering water bodies in Dehradun. And PM Modi reiterates his cleanliness initiative.
11:17 am IST: New India manifests the strength and skills of 125 crore Indians, who will create a Bhavya and Divya Bharat.
11:10 am IST: The Champaran Satyagraha showed us how special Mahatma Gandhi was and how unique his personality was.
11:07 am IST: We are marking 100 years of Champaran Satyagraha. And this was one of the first Gandhian movements in India: PM.
11:04 am IST: Bhagat Singh, Sukhdev and Rajguru were not scared of death. They lived and died for the nation, said PM Modi.
11:03 am IST: Prime Minister Narendra Modi speaks about Rabindranath Tagore. Tagore had inspired Shaheed Bhagat Singh, said PM Modi.
11:00 am IST - Today's Bangladesh's independence day, they were led by Bangabandhu. Extend my greetings: PM. India will always stand shoulder to shoulder with the people of Bangladesh.
Prime Minister Narendra Modi will be addressing the nation during the 30th edition of his radio programme 'Mann ki Baat' on Sunday, March 26. It will be aired at 11 am on the All India Radio and Doordarshan.
The programme will be broadcast in Hindi followed by other regional languages
During the 29th Mann ki Baat, he spoke about India's historic launch of a record 104 satellites on a single rocket, Indian team's incredible victory in the Blind T20 Cricket World Cup, and others.