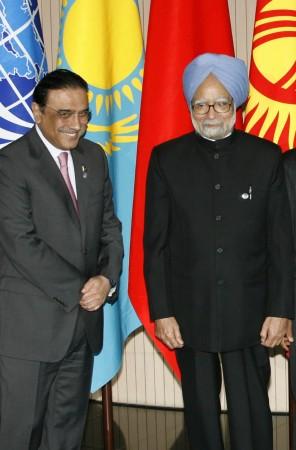 Pakistani President Asif Ali Zardari will land in New Delhi Sunday accompanied by Interior Minister Rehman Malik and a 40-member delegation. Foreign Minister Hina Rabbani Khar is also expected to be part of the delegation.
Indian Prime Minister Manmohan Singh will be holding a one-to-one discussion over various outstanding issues with Zardari behind the closed doors, followed by an official banquet.
Zardari's visit to India is the first presidential tour from Pakistan in seven years. However, Singh and Zardari are not likely to make any joint statements over their official discussions.
The recent US announcement of a $10-million bounty on LeT chief Hafiz Saeed, who allegedly masterminded the Mumbai terror attack, might be an important debating point during Singh-Zardari meeting.
India has been demanding Pakistan to handover Saeed. However, Pakistan hasn't conceded the former's plea claiming lack of evidence against the LeT chief.
After the meeting with Manmohan Singh, Zardari will be heading to Ajmer to offer prayers at the Sufi shrine of Khwaja Moinuddin Chishti.
On Sunday morning, a three-tier security blanket will be put in place following the arrival of Zardari at New Delhi. According to sources, over 2,000 police personnel will be deployed to safeguard the Pakistani President's convoy throughout diplomats' stay in India.
Meanwhile, India has decided to fend off all past displeasures with its long time adversary (Pakistan) and move on in building up a strategic partnership. In respect to this, India has taken several initiatives in recent years to fix the crippled diplomatic ties post 2008 Mumbai terror attacks.
In a reciprocal way, Pakistan has been working on offering the Most-Favoured Nation (MFN) status to India. Further, a judicial team from the Pakistan visited India last month to expedite the dragging 26/11 investigation.
However, Pakistan has maintained a defiant stand when it comes to surrendering Saeed to India. Saeed has taken the centerstage in the wake of the US bounty for his head.
Being a leader of radical-Islamism in Pakistan, Saeed has been organizing anti-India rallies and spreading hatred. He joined the global terrorist list in 2008 as well. Despite all these, he is freely roaming in Pakistan.