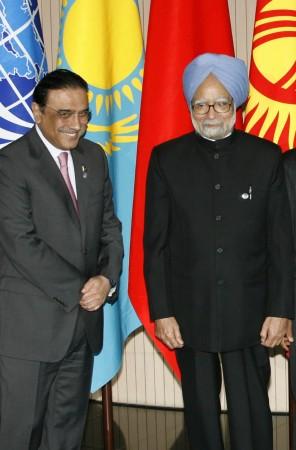 Terrorism topped the agenda at Sunday's meeting between Indian Prime Minister Manmohan Singh and Pakistani President Asif Ali Zardari in New Delhi on Sunday.
During the hourlong session, Manmohan asked Zardari to take proactive steps against terrorism emanating from Pakistan.
India has borne the brunt of the terrorism harboured by Pakistan a number of times. Manmohan told Zardari that it was imperative to bring the perpetrators of the 2008 Mumbai terror attack to justice and prevent anti-India activities emanating from Pakistan.
The prime minister said action should be taken against Laskkar-e-Taiba chief Hafiz Saeed, who allegedly masterminded the Mumbai terror attack. Pakistan has been allegedly protecting Saeed despite several requests from India to hand him over
Commenting on Saeed, Zardari said that the matter needed to be discussed further between the two governments. He showed no possibilities of Pakistan acting against the wanted LeT chief.
"The leaders discussed the problem of terrorism, which is a major issue by which the Indian people will judge progress in bilateral relationship," Foreign Secretary Ranjan Mathai told reporters in New Delhi.