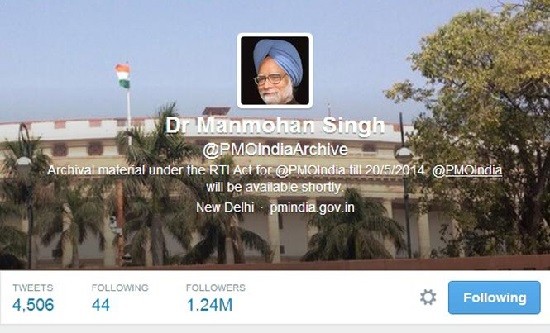 After courting criticism from all sides, outgoing Prime Minister Manmohan Singh's office has finally decided to hand over the the PMO Twitter account to PM-designate Narendra Modi along with its 1.24 million followers.
It had certainly added to the embarassment of Singh and even the Congress party, when the PM's IT staff archived off the PMO Twitter handle. The Singh administration decided to switch from @PMOIndia to @PMOIndiaArchive but while doing that, the staff also put the 1.24 million followers to grave.
Bharatiya Janata Party (BJP) was furious with Singh's office as the act was seen as a cheap parting short. BJP stressed that the Twitter account @PMOIndia is a national digital asset, and branded the matter as disgraceful, unethical and illegal.
The incident drew reactions from several high-profile leaders in the country.
Jammu Kashmir Chief Minister Omar Abdullah tweeted: "How churlish!!! Just hand over the twitter account. It's not like Dr Manmohan Singh was actually using it himself or will use it much now."
Spiritual guru Sri Sri Ravi Shankar also criticised the outgoing PM's stance: "It is appalling that the outgoing Government is playing foul till the last minute #Handlegate @PMOIndia."
Singh's administration, after drawing criticism from all sides, finally relented. "The twitter account @PMOIndia has been secured by Twitter and they are assisting in the handover of the same to this office to be available to the incoming PMO administration along with its followers," read an official statement.
They also assured all internet-based platforms such as the official website, Twitter handle, Facebook page and YouTube channel will continue to remain under adminstrative control and management of the PMO, after the changeover.
The Twitter row between Modi and Singh's staff had created quite a storm. News source CNET carried an article with the headline "India's next prime minister barred from office's 1.24M Twitter following; Office of the Indian prime minister changes its Twitter handle and won't give access to newly elected PM Narendra Modi" detailing the incident.
Meanwhile, The Times of India was lighter in its attack and ran a story with the headline "PMO archives official Twitter account, Modi as PM may have to start afresh."