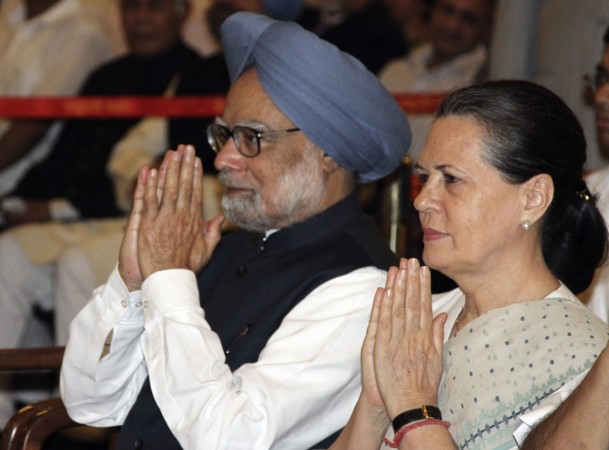 Sonia Gandhi along with the entire Congress leadership took to the streets on Thursday to protest against the summoning of former Prime Minister Manmohan Singh as an accused in the Hindalco coal block case. Ms Gandhi went on to call the move "outrageous".
Several of Mr Singh's cabinet colleagues P Chidambaram, Anand Sharma, Veerappa Moily, Ambika Soni and K Rehman Khan were present in the march which was chaired by Sonia Gandhi at a meeting of the CWC at the Congress headquarters early in the morning, reports Zee News.
The Congress leaders lashed out at the government, accusing it of maintaining a "studied silence" after the CBI had told the court that there was no criminal activity in the allocation of Talabira coal blocks II to Hindalco company of Aditya Birla group in Odisha in 2005. Manmohan Singh held the portfolio of coal at that time. Ms Gandhi said that the party would fight the case with all available legal means.
"I was outraged at the news that summons had been served to Manmohan Singh," Sonia Gandhi told reporters at Dr Singh's residence.
"The former Prime Minister is known not only in our country but throughout the world as being a person of integrity and probity. We are here to offer our unstinted support, our solidarity."
"The Congress party is fully behind him. We shall fight this legally and with all our means at our command. We are sure, we are convinced that he will be vindicated," she added.
Giving his views on the controversy, former union minister P Chidambaram said he was confident that the summons against Manmohan Singh would be withdrawn sooner or later.
"It is very difficult in view of the tragic silence of the BJP. The CBI is the executive arm of the government. The CBI has said that there is no change, no ground to take criminal action. But the government must speak up and say we stand by the CBI's report."
"If the government believes in the independence of CBI and if CBI has already said that there is no criminal case, government must say they stand by the CBI's report. Why is the government reluctant to do that," said Chidambaram.