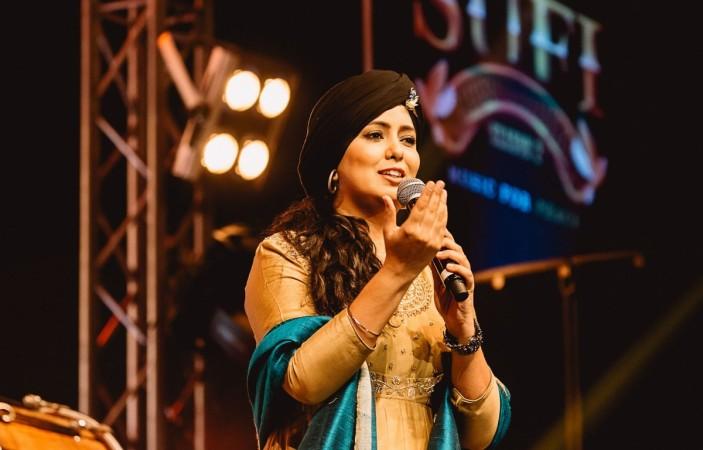 Bollywood playback singer Harshdeep Kaur, who is known for her love of Sufi music and her turbaned look, is currently dominating the music industry with her soulful voice. She has recently lent her voice to three songs of Manmarziyan - Chonch Ladhiyaan, Jaisi Teri Marzi and Grey Walaa Shade.
She is the first female signer to win two singing reality shows - MTV Video Gaga Contest (2001) and Junoon Kuch Kar Dikhaane Ka (2008). Amitabh Bachchan gave her a name - Sufi Ki Sultana - when she bowled over the megastar with her magical singing. She is now one of the most sought-after singers in Bollywood who likes to explore and challenge her own singing.
In an exclusive conversation with International Business Times, India, Harshdeep spoke at length about her tuning with Amit Trivedi, why music industry remains male-oriented, her unfulfilled wish and why aspiring singers should not take reality shows too seriously.
You have sung three songs in Manmarziyan and it has been well-received by the audience.
It feels great when people enjoy your music and send you messages and reviews telling how they liked your songs. It's a great feeling to get appreciated for your hard work.
Having worked with Amit Trivedi multiple times before, how has your experience been working with him?
It has been always a pleasure working with Amit Trivedi. I love the way he composes new songs and also the way he approaches the songs are very modern and fresh. There are certain sounds which can be heard only in Amit Trivedi songs and not anywhere else. I like the way he introduces new sounds, uses a lot of acoustic instruments and keeps it very earthy yet modern. So that is what I like about his music.
Amit Trivedi is known for experimenting with music and his singers as well. Do you feel challenged every time you sing for him?
I would say challenges are good because they motivate you to do even better and you get to explore a new side of you. And if you get to sing that you have not done it before then it gets even better. You explore so much about your own singing. So it's challenging but also a lot of fun to sing new styles and new composition.
There's always a tuning between a music director and a singer because the music director understands his composition the most because he has created it. And when the singers hear it, it's like how does the singer make it her own song, how to give a new style to the song. So the singer also gives his own suggestions and music director tells what he wants from the singer, what style, what kind of singing he is looking for, what kind of expressions. So that tuning is very important for the song to be good.
How difficult is it for a singer to express through songs?
Well, it's not very difficult. It's more to do with how you feel about the song. If you are feeling the tune and the lyrics of the song, the expression of the song automatically comes. So you have to imagine yourself to be the character for whom you would be singing. So if you catch the feel of the song in a correct way, the emotions are automatically conveyed in a song. You need to feel it yourself so that others can feel it through your voice.
Having achieved a lot, do you feel satisfied in your music career?
Of course, there is a lot because it was my childhood dream to become a playback singer and it's like a journey. I want to go on and on and sing more songs. It's not about satisfaction but every time I sing in the studio or on the stage, it's a beautiful feeling and it's like breathing. Music is like breathing to me.
It's a different atmosphere altogether when you record a song inside a closed studio and perform live in front of a large audience.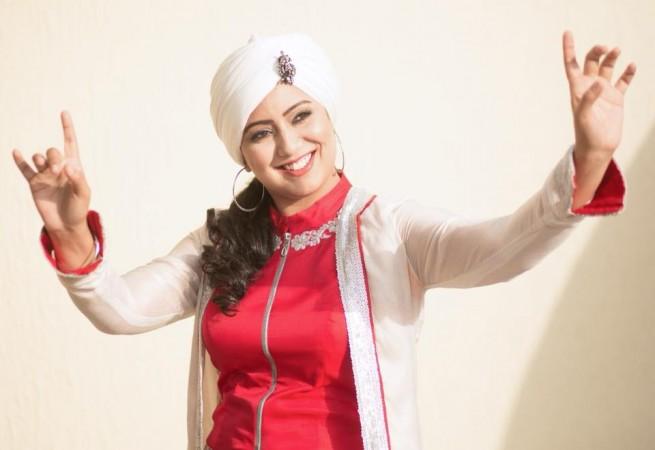 When you are in the studio, your entire concentration is on making the song go perfectly with your singing, pronunciation and expressions. Hence, a lot of detailing happens inside the studio. But when you are singing the same song on the stage, then you have to forget everything and just sing from your heart and somehow it should reach the audience.
Then you have to take care of your performance also like how you are presenting the song and your projection. And there are no retakes in live performance and you have to give your best shot. In recordings, if you don't like one take, you can stop and take another take and you can make it better after two-three times. But on stage, there is only chance and there is a live audience in front of you, so when you are performing, it should connect with the audience in one shot.
And when you sing in front of thousands of people, you get an immediate response whether they are liking the song or not. Sometimes if the audience really likes the song, they sing and dance with you. So that's another high, a big one, that every singer craves for. But both playback and live singing are important.
Becoming a playback singer was your childhood dream but was Bollywood always in your mind?
Yes, always. In fact, its because of the movies that I wanted to become a playback singer. We have grown up watching Hindi movies like Hum Aapke Hain Koun in theatres which is musical. And listening to songs and watching actors singing and dancing on the screen was something else. So I always felt that I wanted to hear my voice on the big screen and I want to sing for films. So that's how it started. Being a Bollywood fan, I always wanted to sing in movies.
How did your first break happen?
When I was in Mumbai recording for my first music album, I met Anubhav Sinha. I auditioned for his film called Aapko Pehle Bhi Kahin Dekha Hai (2003). I sang a song and they really liked my voice and they called me for the final dubbing of the song called Sajna Main Haari and the music was given by Nikhil Vinay. So that was my first ever playback song.
Why is it that we don't see more female singers getting enough songs to showcase their vocal range?
Firstly, it's because there are a lot of singers in Mumbai and there are a lot of singers coming from other cities, from reality shows and other parts of our country. So there's a lot of competition and again, the demands of music directors also matter. There are limited films and limited songs. So to stand out is very important. There are a lot of good singers but you should have something in you that will make you stand apart. It is very important to show your versatility. In fact, it has become more convenient where you can put up own stuffs, own songs and showcase your talent. It has become better now because we have portals where you can put up songs that you don't get to sing in movies. If you want to do a ghazal or a light classical song, you can release it on your own on social media platforms or YouTube channels.
Most of the time, female singers are given only 2 or 3 lines to sing whereas male singers dominate the entire song. Why does it keeps happening in Bollywood?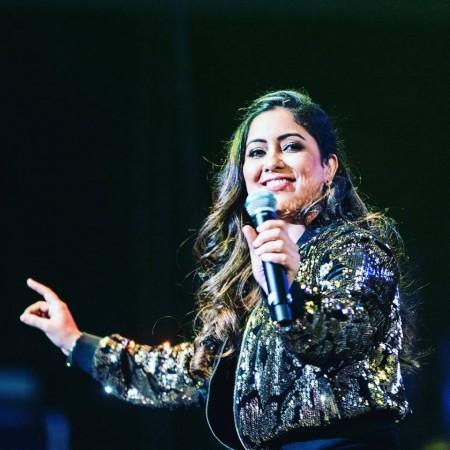 Well, luckily it didn't happen in Manmarziyaan because you will notice that the songs have equal parts for both male and female and it should like that. But yes, there are a lot of songs where there are just two female lines and the entire song is male but again it depends on the movie.
If there is a big male actor, like a big Bollywood hero, the songs are mostly concentrated on him. It again shows how females are portrayed in movies. So there are only two lines for the heroine, the playback singer will also get two lines. It's like that. So that's why even in Hindi cinema, it's more male-oriented.
So there is more for male singers and less for female singers. So it's correlated. I think it's not about female singers but more about less mainstream female-oriented movies and more male dominated songs. That is the reason why females lines are very less because 'fir picturization kispe karenge'. Songs are mostly picturized on male actors only.
So do you think female actors should demand for more songs to be picturized on them?
The trend is changing a little bit. There have been female actors like Taapsee Pannu, Deepika Padukone, Priyanka Chopra or Vidya Balan, they have been doing female-oriented movies. So it looks like a refreshing change.
Why don't we see more female composers in Bollywood?
Well, there is Sneha Khanvalkar, in the older times, there was Usha Khanna but yes, they are very less and I don't know the major reason behind it. But I think the trend is changing thanks to social media and more awareness. Like even parents are now comfortable sending their girls to studios because recording happens at late night most of the time and you have to deal with a lot of people.
So maybe that was the reason earlier but now everything is becoming more convenient and safer. But there are many female sound engineers also. For Manmarziyaan, the sound engineer who recorded my voice for songs is a girl named Urmila. And being a sound engineer is also very difficult because again there are late night recordings. But I think girls are becoming more independent now and more confident. It will take time, but gradually you will see more female composers in Bollywood.
What is that one wish of yours which has remained unfulfilled?
I wanted to see Nusrat Fateh Ali Khan saab perform once in my life but it could never happen. Because I am a big fan of his voice. If it could've happened, it would've been one tick off my bucket list to watch him perform live or just meet him once. I have never met him.
You have inherited music from your father who owned a musical instrument store. Do you play any instrument?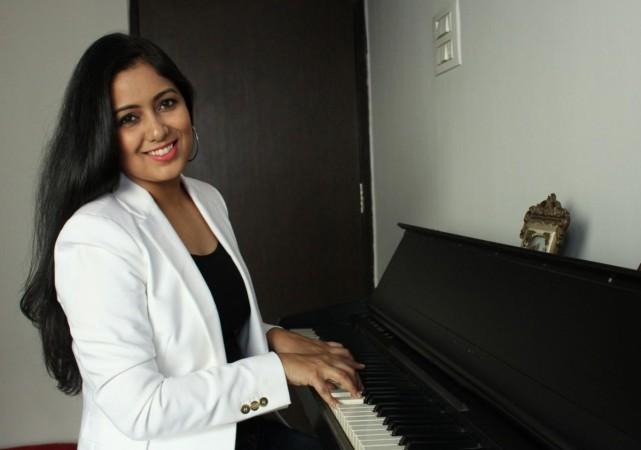 Yeah, I have learned to play the piano. I can play a little bit of harmonium also but I am trained in piano, that is western classical music.
Have you ever tried your hands on composing music and writing songs of your own?
I have composed my own songs and tried to write also. I have done a lot of compositions. They are not released yet but yes I am working on it. And on YouTube, I have composed a song called Simran and a devotional song called Satnam Waheguru Ji, I have composed that. So it's there on YouTube.
An aspiring singer, who auditioned for Indian Idol in 2012, narrated his ordeal on Twitter about how contestants were slapped, verbally abused and mistreated. Being a winner of two reality shows, how do you see this behaviour?
Well, I am totally unaware about this tweet and the incident that happened to the contestant. My personal experience has been good because I feel reality shows give a platform especially to young singers whom nobody has heard before. They suddenly start coming on TV every week and people get to know about their talent.
So it's a good platform for really new singers who are very talented. So they get a lot of air time and people start recognising them, their faces, their voices. But you should not depend on reality shows and believe that once you have come on a reality show, your life is sorted now. There is a lot of preparation and hard work before and after being a part of reality shows.
So your hard work shouldn't stop. The struggle continues. Reality shows are just a part of your career but they don't make your career. So don't take it too seriously. You just do it for fun. You should enjoy every experience in your life and just sing from your heart. Never take anything too seriously in your musical journey thinking about what bad had happened to you. Like that.
What advise would you give to an aspiring singer who wants to become a playback singer in Bollywood?
For aspiring singers, I would like to tell them to learn music first and do a lot of hard work. Learning Indian classical music or any formal training is also very important. Because if your base is strong then you are able to sing anything. Enjoy what you are doing and don't do it under pressure. If you are not enjoying, then maybe you are not in the right place. Give time to training, do a lot of riyaz, work hard on yourself and then only showcase your talent because nothing happens overnight.