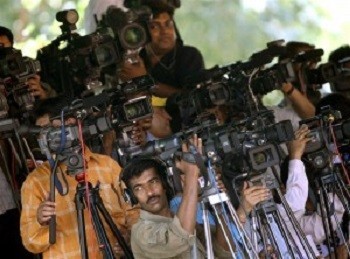 The Editor's Guild of India has reacted sharply to Information and Broadcasting minister Manish Tewari's untimely proposal for a common entrance exam for journalists calling it an attempt at 'state control'.
"The reporting of facts and the expression of ideas is the right of every citizen, and to require the passing of a test and the possession of a licence issued by the government would be a violation of the very concept of freedom," stated N. Ravi, president of Editors' Guild of India.
Tewari on Monday had proposed that "the media industry could think about at least having a common exam" which he went to explain should be in the lines of bar exam for lawyers or common medical exam for doctors.
The minister had validated the proposal saying, "It would bring a certain amount of standardisation across the media space."
However, the Guild president said the move was an absolute measure of state control and went against the basic right of freedom of expression and majorly against the democratic ideals of the constitution.
"In this age of citizen journalists, bloggers and social media and Internet users, it would be ridiculous to introduce any restriction on who should practice journalism even if it were possible to enforce it," Ravi was quoted as saying by IANS.
"Requirements such as membership of a particular organisation, specific qualifications and licences issued by the government are tools used by totalitarian states to control the media."
"The right to freedom of expression is guaranteed under Article 19 (1) of the constitution and it is open to every citizen to practice it through the media subject only to restrictions on the grounds specified in Article 19 (2)."
Further, the Guild chief added that such a suggestion was impractical as journalists cannot be limited to such tests. Journalism has a very wide scope and entails knowledge and issues spanning vast fields.
Along with the suggestion of licensing the profession, Tewari had also expressed concerns over media's 'ad-dependent model' which he said was troubling at a time when the country's economic growth was not fruitful enough.