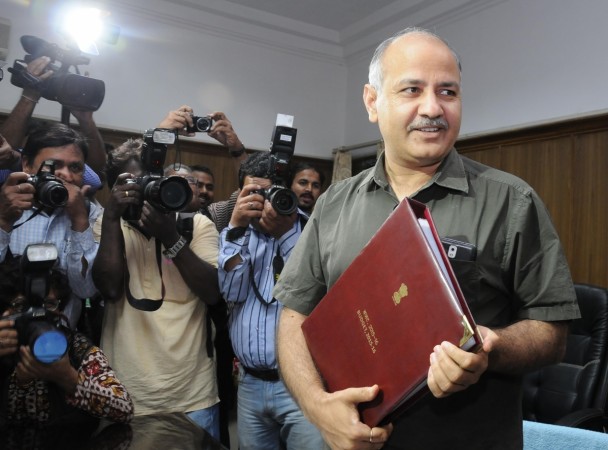 The Delhi Police on Sunday detained Delhi Deputy Chief Minister Manish Sisodia along with 52 other Aam Aadmi Party (AAP) MLAs while they were on their way to Prime Minister Narendra Modi's residence to "surrender." They were released later.
This protest march came after a complaint was submitted to the Delhi Police by the president of the Ghaziabad Vegetable Market Association, accusing Sisodia of intimidating businessmen on his official visit to the market, the Indian Express reported.
Sisodia, as a sign of protest, said in a tweet he would march to Modi's residence to "surrender."
"Complaint filed against Manish Sisodia yesterday. Manish will go to 7, RCR today to surrender himself before PM, [sic]" Delhi Chief Minister Arvind Kejriwal said in a tweet on Sunday morning, with a copy of the complaint attached to it.
Sisodia, on Twitter, accused Modi of using the complaint to frame charges of extortion and molestation against him.
मुझे यकीं है कि मोदी जी कल इस शिकायत को रंगदारी, हिंसा, लड़की छेड़ने जैसे आरोपों में बदलवाकर मुझे भी गिरफ्तार करने का इंतज़ाम कर लेंगे।2/2

— Manish Sisodia (@msisodia) June 25, 2016
He also accused the market association of indulging in illegal activities. "I scolded them and warned of action against them. They are saying I misbehaved with them. Of course I misbehaved. If any officer is not working properly, we will scold them. If we are being sent to jail for these, we are surrendering, but won't stop the work in Delhi," he was quoted by ANI as saying.
Sisodia and the 52 AAP MLAs were taken to the Parliament Street Police Station after their march was halted. They were detained there for over four hours, according to a tweet by Sisodia. However, they were later released, ANI said in a tweet.
The police said no FIR would be registered in the case as it was not a cognizable offence. They were temporarily detained because there were chances that they might go to the prime minister's residence again, the IE quoted Joint Commissioner of Police MK Meena as saying, citing ANI.
The incident comes a day after AAP MLA Dinesh Mohaniya was arrested by the police on three charges — two of molestation and one of assault, another IE report said.
"The first case was registered at the Govindpuri police station in March, after he allegedly misbehaved with some women in Tughlakabad during a protest. Later, he filed a cross-case against the complainants. He was granted anticipatory bail in that case. Another case of molestation was registered at Neb Sarai police station and a third case was registered after he allegedly slapped a 60-year-old man Friday," the daily quoted police sources as saying.
The Delhi Police had reportedly sent the MLA four notices asking him to join the probe, but he never turned up.
Kejriwal lashed out at PM Modi on Twitter, saying: "Modi declares emergency in Delhi. Arresting, raiding, terrorizing, filing false cases against all those whom Delhi elected."